Created before the Civil Rights Act of 1964, historically black colleges and universities (HBCUs) are higher education institutions that were originally set up to educate African American students before they were allowed to attend college alongside white students.
Nowadays, HBCUs welcome students from a range of ethnicities and backgrounds while continuing to champion African American culture and scholarship.
The unique learning experience and sense of community that HBCUs provide is well worth considering for international students interested in studying in the US.
Phanuel Heward Cofie began studying at a university in Ghana before transferring to Central State University, a historically black college in Ohio.
Below, he discusses his experience of studying at an HBCU, including how he found out about them, what support was available and how he settled into campus life.
Phanuel Heward Cofie, manufacturing engineering, Central State University
I had always dreamed of studying abroad. I wanted the chance to not only learn a foreign language, but to develop, grow and get to know myself through the experience of studying in another country.
My family and I are from Ghana, but my dad moved to the US in 2003. It was always part of his plan that we would join him in the US, but since we didn't know when we'd be able to, I began studying at a university in Ghana once I finished high school.
---
Scholarship opportunities available at historically black colleges and universities
Everything you need to know about studying in the US
Best historically black colleges and universities in the United States
Required Reading: what is a historically black college?
---
By the time my sister and I were granted permission to join my dad in the US, I was already in my final year of university in Ghana. I decided to leave university so I could go. When our plane landed at JFK Airport in New York in July 2019, I could not believe it.
I had planned to apply to US colleges as soon as I arrived there, but I was put off by the expense.
One Sunday morning at church, a member of the congregation who happened to be a college professor told me all about HBCUs. I'd never heard of them before.
With this new information, I chose to apply to Central State University, majoring in manufacturing engineering. In Ghana, I had been studying statistics, but luckily I was able to have some credits transferred.
I decided to use this opportunity to change subjects because a huge portion of the population in Ghana has no access to potable drinking water and I wanted to help with this. My engineering major has equipped me with the skills I need to design more efficient water filtration systems, and I plan to eventually put this technology to use in Ghana.
So far, I have really enjoyed studying abroad, especially at an HBCU. I've had the opportunity to learn about different cultures, attend homecoming dances and make connections for life. There are lots of events and activities on campus, such as step shows, football matches and comedy nights to help you settle in and find your community. I was also given some financial aid through a scholarship programme.
Everyone I've met at Central State University has been eager to help international students like myself feel at home. I haven't experienced any discrimination, and we are all proud to be here.
I would strongly recommend an HBCU to anyone interested in studying abroad. Take my word for it when I say you're going to cherish every moment you spend on an HBCU campus.
Featured image
Image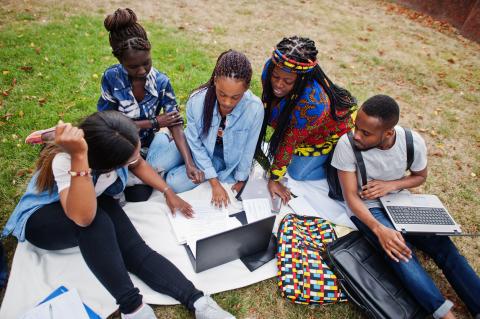 Standfirst
Phanuel Heward Cofie, studying at Central State University, reflects on his experience transferring from a university in Ghana to study abroad in the US, including settling in, switching courses and developing his career goals