The US is one of the most popular destinations in the world for international students, and for good reason.
Students can choose from more than 4,000 universities, including some of the most prestigious in the world, such as Harvard University, Yale University and Princeton University. 
The process of applying for a student visa for the US can be complex and admin heavy, and therefore daunting for prospective students. However, you shouldn't let that put you off studying abroad.
To help with your applications, we've put together this easy-to-use table for a quick overview of what is involved when applying for a student visa for the US.
See below for all the key information on US student visas, including costs, deadlines, language requirements, whether you can work or not on while a student, and post-study work options.
 
US student visa requirements
What type of visa is required?
F Student visa (the J visa may be more suitable for students participating in exchange programmes).
How much does a visa application cost?
US$160 (£115). Some nationalities also have to pay an additional issuance fee; more details here.

  

What are the language requirements?
English language requirements depend on the course and university – check first with the institution you want to apply to.
What money do I need to prove that I can support myself?
Prospective students need to prove to their university that they can cover expenses. The university will then issue a Form I-20, which is necessary to apply for a visa. More information here.

 

Are there any additional charges?
Prospective students need to pay a I-901 SEVIS fee of $350, which supports the operation of the US's Student and Exchange Visitor Program.

 

Can I work while studying?

 

Students can work up to 20 hours a week during term time in an on-campus role. During holidays, students can work full-time. To work off-campus, students need to have been studying for one academic year, and must demonstrate that they are in financial hardship.

 

What are the post-study work options?
Students can apply for 12 months of optional practical training, which must relate to their major or course of study. Those who have a degree in science, technology, engineering or mathematics (STEM) can extend this to 24 months.

 

When should I apply for my student visa?
Visas for new students can be issued up to 120 days before the course start date. The waiting time for an appointment depends on the consulate or embassy

.
More resources for studying in the US as an international student
Covid-19 travel updates for international students for the UK, the US, Canada and Australia
Everything you need to know about studying in the US
A day in the life of a US university student
What is it like to study at a liberal arts college?
Scholarships available in the US for international students
The cost of studying at a university in the United States
Please note all costs and conversion rates were correct at the time of publication. These may vary over time.
Featured image
Image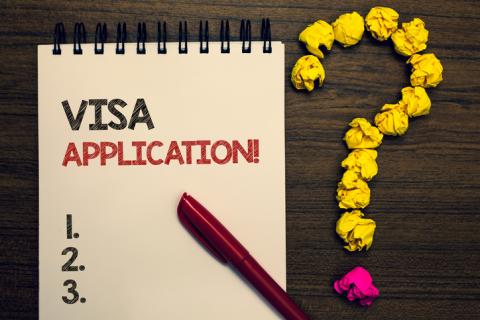 Standfirst
For students looking to study in the US, this table will help you to understand deadlines, costs, language requirements and post-study work options