Australia has had one of the strictest Covid-19 travel restrictions and has only just started letting international students into the country from the end of 2021. 
Australia also made some temporary changes to its student visa regulations to accommodate Covid-19 disruptions.
Below is everything you need to know about the changes to student visa processes in Australia that have come in due to the pandemic.
Can I enter Australia as an international student with a visa?
Australia has strict travel restrictions in place and the borders are still mostly closed to the majority of people. However, from December 2021 Australia scrapped the requirement for some international students to have special permissions in order to enter the country.  
To be eligible, students must have tested negative for Covid-19 in the three days prior to travelling and must be fully vaccinated with one of the vaccines that have been approved by Australia's Therapeutic Goods Administration. Students must also self-isolate for three days upon arrival. 
If students are not eligible for a travel exemption they can enter the country under an International Student Arrival Plan which are operating in of New South Wales (NSW), Victoria, Australian Capital Territory, Queensland and Adelaide. You must have an eligible student visa to enter through an International Student Arrival Plan. 
If you're currently enrolled or about to enrol at an Australian institution, you should contact them directly for more advice on when you may be able to enter the country and whether you are required to apply for a travel exemption. 
The Australian government has stated that it will not be prioritising visa applications for students are entering under the International Student Arrival Plan and students will not be able to board a flight without a valid student visa.  
Students will have to prove that they have the sufficient financial funds to support themselves while in Australia and consider the current economic climate if considering looking for a job. 
---
Best universities in Australia
Vlog: International student orientation week in Australia
Covid-19 travel updates for international students for the UK, the US, Canada and Australia
Everything international students need to know about student visas in Australia
---
Visa re-application fee waived for some students
If you need to apply for a further student visa to complete your studies because of any the following:
You deferred your studies due to travel restrictions stopping you from entering Australia

You had to switch from a full-time to a part-time course because of Covid-19

You were unable to complete any work-based training or placements that formed part of your course,


 
then the fee for you to apply for another visa will be waived. To do this, you'll need to get this fee waiver application form filled out by your education provider and attach it to your online visa application.
Longer deadlines for English language tests and health checks
Covid-19 has made it difficult for some students to take the necessary English language proficiency tests and health checks required to get an Australian student visa approved. The Australian government will allow more time for English language tests and health checks to be completed. 
It is now possible to apply for a visa without having a health check or English language test if you upload evidence that you've booked in for any missing services to your ImmiAccount. 
Will my temporary graduate visa be affected?
Australia's temporary graduate visa scheme allows international students from Australian universities to live and work in the country for up to four years after graduating.
To accommodate ongoing travel disruptions, the Australian government has announced that remote study from outside Australia will count towards the study time needed to be eligible for this visa.
Furthermore, you can now apply for the temporary graduate visa from outside Australia if you have been affected by travel restrictions. If you are applying from outside Australia, you must have held a student visa for the past 12 months, even if you've been unable to enter the country in that time.
How many hours can I work?
All international students studying in Australia will soon be allowed to work more than 20 hours per week (40 hours a fortnight) without compromising the conditions of their student visa. 
This temporary change has been made to help plug the shortage of workers that Australia is currently facing because more and more people are having to isolate amid an increase in the number of Covid-19 cases.
Featured image
Image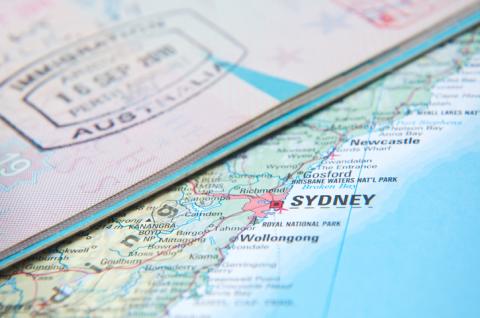 Standfirst
Amid ongoing lockdowns and travel restrictions, here's how the student visa process for Australia has changed