If you're hoping to study abroad, applying for a scholarship is a good way to help with the funding aspect.
There are many scholarships or partial scholarships available to international students, but finding the right one for you can be difficult when there is such a plethora of choices.
Below are just some of the scholarships available for students from South Korea who want to study internationally. Most universities will have some form of bursary or scholarship aimed at helping international students, so do some research of your own to make sure you find the right scholarship for you.
---
Scholarships in Canada for international students
Scholarships available in the UK for international students
Scholarships for international students in Australia and New Zealand
Scholarships available in the US for international students
---
Australia
Korean Studies Association of South-East Asia Scholarships – supports postgraduate researchers with grants up to A$35,000 at the University of New South Wales (UNSW) Canberra.
Murdoch University International Welcome Scholarship – Murdoch University offers a range of scholarships to international undergraduate and postgraduate students, worth up to A$12,000.
US
Fulbright South Korea Programme – offers a range of opportunities for graduate and postdoctoral students to study in the US.
Korean American Scholarship Foundation (KASF) Scholarships – KASF offer grants from $500 to $5,000 to students enrolled on American educational programmes who have Korean heritage (including Korean citizens).
UK
Chevening Scholarships – Chevening is the UK government's international awards scheme, offering scholarships for South Korean students across UK universities. There is also a joint scholarship between Chevening and the Bank of Korea to fund a two-year master's course in economics, business or law.
University of East Anglia (UEA) South Korea Award – offers all South Korean students applying to a postgraduate course at UEA a £3,000 tuition fee reduction. All eligible students will be awarded this scholarship automatically without needing to apply.
SOAS South Korea Postgraduate Scholarship – offers £3,000 off tuition fees to postgraduate students from South Korea studying at SOAS University of London.
Canada
Korean Canadian Scholarship Foundation – offers a range of scholarships and bursaries to students with Korean heritage.
Ontario Trillium Scholarship – offers 75 international PhD candidates up to C$40,000 annually to support their studies in participating universities in the Ontario province, renewable for up to four years. Applicants are expected to have a strong academic record.
Vanier Canada Graduate Scholarships – supports academically gifted international students at Canadian universities pursuing a doctorate degree. Up to C$50,000 per student is available over a three-year period.
Featured image
Image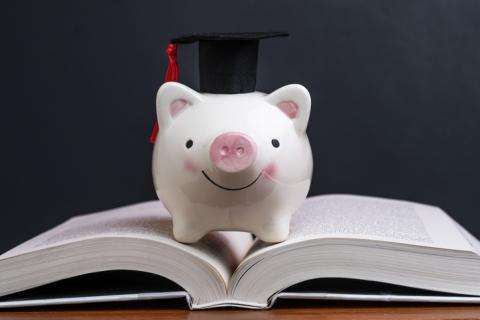 Standfirst
Students from South Korea can use this guide to find which scholarships they are eligible for to study at a university abroad