When preparing to study abroad, one of the most important things to consider is how you will fund your studies.
There are many scholarships or partial scholarships available to international students, but trying to find the right one for you can be difficult when faced with so much choice. 
Below is a list of some of the scholarships available specifically for Chinese students, to help you begin your search. Most universities will have some form of bursary or scholarship aimed at helping international students, so this is by no means an exhaustive list.
It's always worth doing your own research to see what else you may be eligible for based on your home country, academic ability, subject choice and many more factors.
Global
University of Toronto in Canada and many more.
 – Han Kun Law is a top Chinese law firm offering a scholarship for Chinese graduates to pursue their legal studies at the world's top universities. The programme offers 100,000 RMB a year to five students.
---
Scholarships in Canada for international students
Scholarships available in the UK for international students
Scholarships for international students in Australia and New Zealand
Scholarships available in the US for international students
Scholarships to study in the US
Fulbright Scholar-in-Residence – The Fulbright Programme offers grants to qualified Chinese graduate students to study at graduate level in the United States. Chinese scholars may apply to conduct postdoctoral research at US institutions and are eligible for Fulbright Scholar-in-Residence Grants.
Morning Light Foundation Scholarship - The Morning Light Foundation Scholarships are eligible for any students from China, Hong Kong, Taiwan and Macau and other Asian countries to study in South Carolina in the US. 
Ohio State University China Excellence Scholarship – Students who have obtained their bachelor's degree in law from an institution in China will be automatically considered for this merit-based scholarship, which offers two 50 per cent tuition waivers per year. The scholarship seeks to support students who show promise through a record of community service, academic or professional achievement, leadership and/or overcoming hardship.
- Provides full-tuition scholarships for a four-year course for 11 exceptionally able Asian students at the undergraduate level. Additionally, the university also offers assistance to about 30 international students.
Calvin College Wilhemina Kalsbeek Memorial Scholarship – Four US$2,950 awards are available to students from mainland China or another Asian country (with preference given to those from mainland China) who demonstrate financial need.
Indiana University School of Law Ronald W. Polston Scholarship – Awarded to one or more students enrolled in various selected law programmes, with preference given to Chinese students.
Scholarships to study in the UK
Goldsmiths, University of London and many more.
Great Britain China Centre Chinese Student Awards – Awards of up to £3,000 are available for citizens of China and Hong Kong studying for a PhD in any subject at a UK university.
EPSRC Scholarships - EPSRC provides funding for doctoral students in engineering and the physical sciences. 
Scotland Saltire Scholarships – These scholarships award £8,000 towards tuition fees for students from selected countries including China to study for a master's at a Scottish university. Students must be applying for courses in the sciences, technology, creative industries, healthcare and medical sciences to be eligible.
University of Sussex. The scholarship covers half the international tuition fee for one year.
London School of Economics and Political Science is offering a scholarship of £25,000 to one Chinese student a year with an offer for a master's programme in one of the following departments: geography and environment; government; international relations; or sociology.
– This scholarship is available to PhD applicants from China, Hong Kong and Taiwan in the fields of arts, humanities and social sciences, and covers both tuition fees and an annual stipend for living costs. No separate application is required for this scholarship, only the application to the University of Cambridge.
Scholarships to study in Australia 
Deakin University Business School China Partner Institutions Bursary – This scholarship offers a 10 per cent tuition fee discount to prospective Deakin Business School and law students from selected Chinese partner institutions.
RMIT University, Australia Engineering Excellence Scholarship – Three scholarships valued at AU$10,000 (£5,500) are available for high-achieving students from China who apply for an associate, bachelor's or master's degree in an eligible engineering programme at RMIT. An application is required.
Destination Australia - The Destination Australia scholarships provide funding to international students to encourage them to study in regional and rural Australia. 
Research Training Programme - The RTP provides grants  for international students undertaking research doctorate and research master's degrees in Australia. 
Scholarships to study in Canada 
Canada-China Scholars' Exchange Programme – This exchange programme is designed to enhance Chinese scholars' and professionals' knowledge and understanding of Canada. Scholarships are usually for four- to 12-month periods of research in Canada. This is an opportunity to be a visiting research scholar – it does not involve formal enrolment at a Canadian university.
 – These are open to students applying to a doctoral programme in the social sciences and humanities. The annual value is up to C$60,000 per scholar for a maximum of three years. International students at Canadian universities are eligible to apply as long as their work relates to the foundation's four themes: human rights and dignity, responsible citizenship, Canada and the world, or people in their natural environment.
University of British Columbia Scholarships for International Students – The university dedicates more than C$10 million annually towards awards, scholarships and other forms of financial assistance for international undergraduate students. 
Humber College International Entrance Scholarships - Students with high academic grades will receive an award of C$ 2,000 off their university fees for the first two semesters. Up to 10 undergraduate students and 10 graduate students can be selected for this scholarship. 
Vanier Canada Graduate Scholarships - PhD students will be judged on their academic excellence, research potential and leadership skills prior to selection. Successful candidates will receive an award of C$50,000 each year to cover their three-year doctoral.  
International Leader of Tomorrow Awards - There are four awards that together offer approximately 50 scholarships each year. Students can apply if they are about to begin their first undergraduate degree and will then be considered by the award committee to ascertain which of the four awards will be bestowed.  
Featured image
Image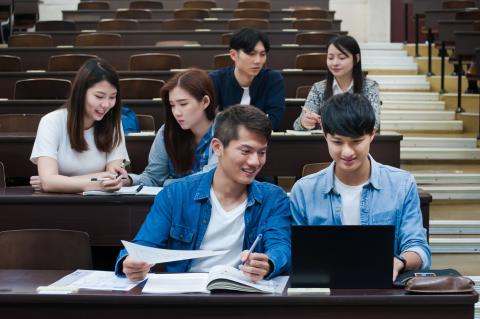 Standfirst
There are lots of scholarships available for Chinese students who want to study abroad. Here's a list to get you started