There are a lot of things to think about when studying internationally, and one of the biggest things to consider is funding.
When searching for scholarships, it can be hard to know which one is the right one for you, but choosing one based on your location can be a good start.
We've put together this list of scholarships specifically for Indian students to help you find a scholarship programme to suit you. This is by no means a definitive list, as there are so many scholarships and partial scholarships available for international students. Most universities will have scholarships for international students, and we haven't listed all of those here.
Global
Inlaks Shivdasani Scholarships – These scholarships are available for students wishing to study a full-time master's, MPhil or doctoral programme in the UK, the US or Europe.
The scholarships are offered for a range of different subjects and cover full tuition fees, adequate living expenses and one-way travel allowance and health allowance up to US$100,000.
UK and Ireland
The Government of Ireland International Education Scholarship – Some 60 scholarships are granted by the government of the Republic of Ireland for one year of study at either bachelor's, master's or PhD level. Successful students will receive a €10,000 stipend for one year of study and fully funded tuition and other registration costs at your chosen higher education institution.
British Council GREAT Scholarships for Indian students – The GREAT Scholarships are a group of 25 scholarships to study at a selection of UK universities across a variety of subjects. Universities include Imperial College London, University of Bristol and University of Edinburgh among others. Each scholarship is worth at least £10,000 towards tuition fees for a one-year postgraduate course.
Charles Wallace India Trust Scholarships – These scholarships are aimed at Indians between the ages of 28 and 38 who wish to develop their careers in the arts. The scholarships, which usually last about 10 months, enable recipients to gain expertise in their chosen fields through a one-year postgraduate course at a UK university.
Chevening Scholarships – Chevening is the UK government's international awards scheme. It offers a range of scholarships for Indian students including India (Chevening Scholarship) and the Chevening Gurukul Fellowship for Leadership and Excellence among others. Recipients are personally selected by British embassies and high commissions across the world.
Commonwealth Scholarships for Developing Commonwealth Countries – There is a range of scholarships available for students from Commonwealth countries at master's and PhD levels. The Commonwealth Shared Scholarship Scheme is available for international students from any Commonwealth country looking to do a master's programme in the UK. The area of the study must aid the development of technology, economy or society within the student's country of origin.
Scotland's Saltire Scholarships – These scholarships are available for students from India to pursue a master's at a Scottish university. Students must be applying for courses in the sciences, technology fields, creative industries, healthcare and medical sciences to be eligible.
LSE Commonwealth Shared Scholarship Scheme – The LSE Commonwealth Shared Scholarship Scheme is awarded to students from developing Commonwealth countries to study at the London School of Economics and Political Science.
Imperial College Future Leaders Scholarship - The Imperial College London Future Leaders Scholarship will support 30 Indian master's students over the next three years. . The scholarships will be for students in MSc programmes across Imperial's Faculties of Engineering, Natural Sciences, Medicine and the Business School and half of the scholarships will be reserved for female students. 
---
Scholarships in Canada for international students
Scholarships available in the UK for international students
Scholarships for international students in Australia and New Zealand
Scholarships available in the US for international students
---
Scholarships in the United States
The Fulbright-Nehru Master's Fellowship – These fellowships are designed for outstanding Indian students to pursue a master's degree programme at a selection of US universities in a range of different disciplines. The fellowship offers a range of benefits including visa support and travel and living costs as well as funding for tuition fees.
Gunvant and Bharati Parekh Scholarship – Two scholarships are awarded each year to high school or college students of Indian origin who are actively enrolled at a US college.
Stanford Reliance Dhirubhai Fellowship – Recipients of this fellowship will receive approximately 80 per cent of their cost of attendance and associated expenses for each year of the two-year Stanford MBA programme.
The Aga Khan Foundation International Scholarship – This programme provides a limited number of scholarships each year for outstanding students from selected developing countries to pursue postgraduate study. The scholarships are 50 per cent grants and 50 per cent loans.
Scholarships in Canada
Canadian Commonwealth Scholarship and Fellowship Plan – This scholarship is awarded to high-performing students from Commonwealth countries applying to programmes in Canada at master's and PhD levels. The award covers travel, living allowance and tuition fees.
Shastri Indo-Canadian Institute – The Shastri Indo-Canadian Institute provides a range of fellowships for Indian students looking to study abroad in Canada. Eligible students are also able to pursue e-courses at Canadian institutions.
Banting Postdoctoral Fellowship – The aim of the Banting Postdoctoral Fellowship is to find top-tier talent nationally and internationally, develop the candidate's leadership potential, and help them become the research leaders of the future. This award provides C$70,000 per year for two years to students enrolled in a postgraduate degree in environmental, social science or health studies.
Vanier Canada Graduate Scholarships – Vanier offers up to 166 scholarships each year to graduate students who demonstrate excellence in their studies, potential in their research and leadership abilities. Successful candidates will receive a grant of C$50,000 per year for three years to assist in their tuition fees and postgraduate costs.
Ontario Graduate Scholarships – The Ontario Graduate Scholarship encourages excellence for graduates and aims to financially assist students at public universities in Ontario. Students will be awarded C$5,000 per consecutive term, meaning that three consecutive terms can entail a student receiving C$15,000 in one year.  
Scholarships in Australia
Ashok Khurana University of Adelaide Scholarship for outstanding Indian students – This scholarship is valued at A$30,000 and can be used towards airfares, living expenses and tuition fees. Successful applicants may also receive a 50 per cent discount on tuition fees throughout their degree. This scholarship is available for candidates undertaking postgraduate coursework at the University of Adelaide that would then benefit India and their local community.
Global Leaders Scholarship – The Global Leaders Scholarship is for high-achieving Indian students applying to the University of Queensland's Faculty of Business, Economics and Law. Successful applicants will receive between A$5,000 and A$20,000 at the discretion of the selection committee.
UNSW Sydney Future of Change Scholarships – Scholarships of A$10,000 per year for the duration of a degree programme are awarded to eligible students from India to study at UNSW Sydney. They are available for students in any discipline. There are also specific opportunities for students applying for undergraduate engineering programmes.
GyanDhan Scholarship – The GyanDhan Scholarship provides financial aid for students looking to study for a two-year postgraduate degree. In a one-time award at the beginning of the academic year, the chosen student will be selected for their academic record and character.
CSIRO Scholarship Programme – The CSIRO Scholarship is awarded to 50 outstanding graduates enrolled at an Australian university, studying subjects that align with CSIRO's priority research areas. The award is provided for up to three years and can be extended to a fourth should the student extend their studies.
Destination Australia Scholarship – The Destination Australia Scholarship is awarded to domestic and international students who are enrolled in graduate, master's or doctoral programmes in Australia. Up to 380 students are awarded A$15,000 per year.
Featured image
Image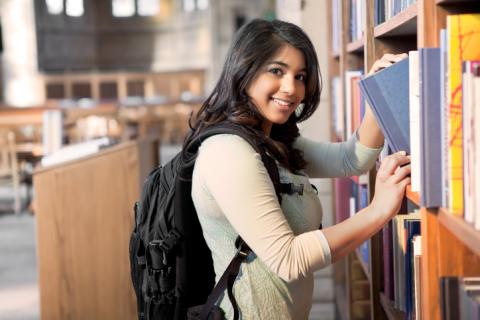 Standfirst
There are many different scholarships available for Indian students wishing to study abroad – here are some of the top ones to kick-start your search