The US welcomes thousands of international students every year, and there are many different types of universities that international students can choose from. Colleges that are unique to the US higher education landscape are historically black colleges and universities (HBCUs). 
Created before the Civil Rights Act of 1964, HBCUs are higher education institutions that were originally set up to educate African American students before they were allowed to attend college alongside white students. 
From this, HBCUs have grown to become champions of African American culture and education, while student bodies have become more diverse, welcoming students from a range of ethnicities and backgrounds.
HBCUs are generally more racially diverse than most US colleges and are well known for creating strong communities that alumni become a part of for life. Such institutions can be a great choice for international students.
Similar to other universities in the US, HBCUs also provide an extensive range of scholarships and financial support for both domestic and international students. 
Below are just some of the scholarships on offer for students at HBCUs, including scholarships open to international students. This is great list with which to start your search, but we always recommend that you get in touch with any universities that you are interested in to see what they offer. 
---
Best historically black colleges and universities in the United States
Required Reading: what is a historically black college?
Scholarships available in the US for international students
Everything you need to know about studying in the US
Best liberal arts colleges in the United States 2022
---
This fund offers a range of scholarships to students at Thurgood Marshall College Fund (TMCF) member institutions, including Howard University, Central State University, Texas Southern University and more. Scholarships include the TMCF Access Scholarship, covering full tuition and on-campus room and board, and the Gap Completion Scholarship, designed for students in unforeseen financial need.
The UNCF is a private fund offering a range of scholarship opportunities to students at HBCUs. Most scholarships are only open to permanent residents and US citizens of African American descent. Several scholarships are also available to Latino American, Native American, Alaska Native, Asian Pacific Islander American and Hispanic American applicants.
This is a one-off award of US$10,000 (£7,500) to African American and black students attending an HBCU pursuing an undergraduate, graduate or doctoral degree related to social justice, such as criminal justice, education, civil rights or community and economic development.
This scholarship offers students at HBCUs the chance to study abroad for a semester on an IES Abroad programme. Students enrolled at an IES Abroad partner HBCU can apply for US$1,500 towards IES Abroad programme fee, plus US$500 towards travel costs.
Awards two scholarships worth US$10,000 each year to exceptional HBCU seniors (in their fourth year), one female and one male, with financial needs. Applicants must demonstrate high academic achievement, strong leadership skills, and commitment to community service.
East Tennessee State University has a number of financial awards for international students, including the Academic Merit Scholarship, which offers up to US$12,500 to undergraduate students, up to US$5,000 to postgraduate students and up to US$9,000 to doctoral students per year. There are also subject specific scholarships to support international students in STEM or the creative arts.
Fisk University offers a range of merit-based awards for leadership, athletic or musical talent, as well as the Erastus Milo Cravath Presidential Scholarship, which covers full tuition fees and accommodation costs. International students are eligible to apply.
Howard University provides some financial support to international students on a case-by-case basis. Students can apply by completing an international student financial aid application (ISFAA).
In 2021, Jewellery company Tiffany partnered with Beyoncé's BeyGood foundation and Jay-Z's Shawn Carter Foundation to commit to providing more than $2 million in scholarship funding for HBCUs across the US. US residents receiving financial aid will be prioritised.
Featured image
Image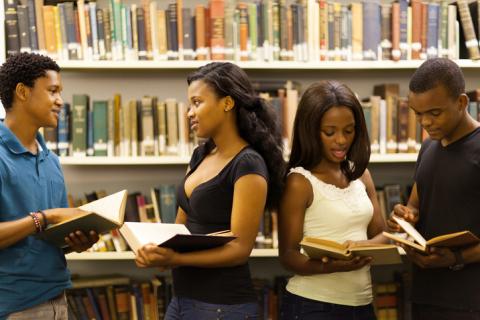 Standfirst
Considering applying to a HBCU? Check out these scholarship opportunities at historically black colleges