As travel disruptions resulting from the Covid-19 pandemic continue, international students face uncertainty around when they will be able to return to their study destinations.
With constant updates and rule changes from country to country, it can be confusing to keep up with the most recent information on travel restrictions. This is especially true for international students, who have had to navigate online learning while staying on top of the latest travel announcements.
Below are the rolling updates on travel for international students enrolled at universities in the US, the UK, Australia and Canada. This article will be updated as the rules change, so check back regularly.
United States
On 27 April 2021, the US secretary of state announced an exemption to Covid-19 travel restrictions for international students starting from 1 August 2021.
The national interest exemptions (NIEs) will now be extended to international students from all countries with valid F-1 and M-1 visas intending to begin or continue an academic programme commencing 1 August 2021 or later.
Students with these visas do not need to contact an embassy or consulate to seek an individual NIE to travel.
According to the US Centers for Disease Control and Prevention (CDC) you should take a viral test three to five days after arriving. If your test comes back negative, and you are fully vaccinated with a vaccine approved by the FDA or authorised for emergency use by the World Health Organization, you do not have to isolate.
If you are not fully vaccinated with an approved vaccine, you also need to take a viral test three to five days after arriving, and self-quarantine for a full seven days after travelling, even if the test is negative. 
Higher education institutions themselves all have individual policies around vaccines, so be sure to check Covid-19 policy with your institution.
More than 660 US colleges, including the entire University of California system, Georgetown University and Stanford University, have announced that vaccines will be mandatory for students coming onto campus. 
It is also important to note that different US states currently have different requirements that you must follow upon arrival. You can use this travel planner from the CDC to get important information on travel restrictions and guidance for the US state you are visiting.
United Kingdom
Under current rules, international students can travel to the UK. 
The UK has implemented a traffic light system with different travel rules for different countries depending on their  Covid-19 levels.
From midday on 26 November 2021 non-UK and Irish travellers from South Africa, Namibia, Zimbabwe, Botswana, Lesotho and Eswatini will be banned from entering England. Any UK resident travelling from these countries will have to self-isolate for 10 days at home. If arriving after 4am on Sunday, they will be required to quarantine in a hotel. Flights from these countries are suspended until the hotel quarantine has been put in place. 
Travellers who have returned from the six countries listed above in the last 10 days will be contacted and asked to take a PCR test.
All travellers to the UK must fill in a passenger locator form and submit it within 48 hours before their arrival in the country. The form will ask for passport information, travel details and the address where you will be staying in the UK. You can complete the form online via the UK government website.
Testing and quarantine rules for entering the UK then depend on whether you are travelling from a red list country and whether you are fully vaccinated with an approved vaccine. If you have been vaccinated, make sure to check whether your vaccine is approved on the government website. 
If you have completed an approved vaccine course, you must take a Covid-19 test within 48 hours of arriving. You must book this test before you travel. If the test comes back negative, you do not have to isolate further, even if you are travelling from a red list country.
If you are not fully vaccinated and travelling from a non-red list country you must take a Covid-19 test three days before you travel. Your negative test result can be shown at the border as a printed document, an email or a text on your mobile device (make sure it's charged), and it must include information such as your date of birth, the result of your test and the date the test sample was collected. 
Once you arrive, you must then quarantine at home or in the place you are staying for 10 days, and take two Covid-19 tests, one on day two and one on day eight after arriving. You must book these tests before you travel.
If you test negative, you may be able to end quarantine early if you pay for a private Covid-19 test through the Test to Release scheme.
If you're travelling from a red list destination and are not fully vaccinated, you must quarantine for 10 days upon arrival at a pre-booked government-approved quarantine hotel, and you won't be eligible for the Test to Release scheme to leave quarantine early. In England, quarantining in a hotel will cost £2,285 per passenger travelling alone, to cover transport, tests, food and accommodation. Every additional adult costs £650. You can book through this online booking system. 
Remember, there are slightly different Covid-19 restrictions in England, Scotland, Wales and Northern Ireland, so be sure to check the rules for the nation in which you'll be studying and adhere to any local restrictions.
Australia
Australia has delayed its International Student Arrival Plan from 1 December to 15 December out of concern over the new Omicron variant. The government has also banned all foreign arrivals from South Africa, its six immediate neighbours and Malawi.
The governments in New South Wales (NSW) and Victoria have overturned recent decisions not to force arriving international students into quarantine. Students and other travellers now must self-isolate for three days. Meanwhile South Australia and Western Australia have tightened the rules applying to interstate travellers. 
With continued volatility on border policies, you should stay up-to-date on quarantine and testing requirements for each state.
Some states such as NSW and Victoria will still only allow students to fly in through special chartered flights under  the International Student Arrival Plan.
Students participating in an approved International Student Arrival Plan must expect to stay in Australia for an extended period. There is no automatic right of re-entry if students choose to leave. This includes for holidays, course breaks or to visit family.
These states do not require students to quarantine on arrival, but they can still only enter those states through the International Student Arrival Plan. 
International students who wish to return to their home country and take a leave of absence can apply to have this assessed if they have appropriate circumstances and supporting documentation.
Australian universities will contact students directly when there are any significant policy changes. For any further visa enquiries, contact the Department of Home Affairs.
Canada
International students can travel to Canada under current restrictions as long as the following requirements are met:
You must have proof of a negative molecular Covid-19 test taken within 72 hours of the start of your travels

You must have a valid student visa, known as a study permit, or a letter of introduction that shows you were approved for a study permit

You must be attending a designated learning institution (DLI) with a Covid-19 readiness plan approved by its province or territory
You do not need to quarantine upon arrival in Canada if you have had a full course of an approved vaccine, but you will need to upload proof of your approved vaccine to the ArriveCAN platform before arrival. 
If you are not fully vaccinated, you must quarantine for 14 days upon arrival in Canada, even if you have a negative test. 
All arrivals into Canada may be subject to randomised Covid-19 testing at the border. 
You can check if your university is a designated learning institution using this search tool from the Canadian government.
The Covid-19 readiness plan is the responsibility of your university, and it must describe how the institution will manage the mandatory two-week quarantine for international students. This includes where you will quarantine, travel arrangements to quarantine locations and support in procuring essential items such as food and medication. It is worth contacting your university directly to learn the specifics of their Covid-19 readiness plan.
If you are an international student in Canada and want to leave the country, you will only be allowed to return if your institution is an approved DLI.
As well as bringing your valid study permit or letter of introduction approving your study permit and a valid letter of acceptance from a DLI with you when you travel, you'll also need to prove that you have enough money to support yourself once in Canada.
The Government of Canada has suspended flights from Morocco until 29 October 2021.
This article was first published on 2 February 2021. We will update it regularly as travel restrictions and guidance changes.
Featured image
Image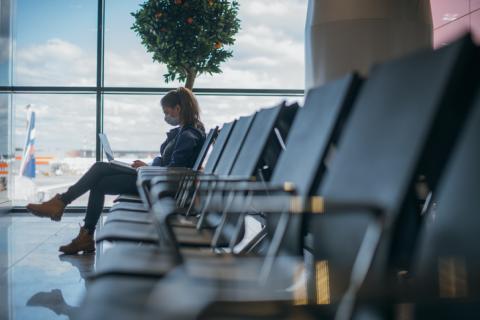 Standfirst
What are the current travel restrictions for international students? Here are live updates for key study-abroad destinations