Safety is a huge concern for any international student when they move abroad, as well as for domestic students moving away to university. While different countries and universities will have a range of different safety measures and initiatives in place for all students, there are some universal apps and ways to stay safe when living in a foreign country. 
These are, of course, not the only ways to stay safe while out and about. Aside from the basic things such as telling people where you are, using well-lit routes of travel and taking care when travelling at night, look into what kind of measures your university has in place. These will vary greatly based on whether your university is in a more urban or rural location. 
Saving the phone numbers of campus support services and campus security can help you feel safer, as well as familiarising yourself with all of the support systems in place. 
1. WhatsApp
Most of us already have this app because it's a great way to stay in touch with people from all over the world. However, did you know that you can share your live location with someone so they can track where you are? You simply have to press the little plus symbol in the chat box of your chosen contact and click "share location" to share your location for 15 minutes, one hour or eight hours.
This can be particularly useful when making journeys at night so someone else can see where you are at all times. This feature can also be switched off in your settings, so that you know WhatsApp isn't always tracking your location.
2. University shuttle buses and taxis
Many universities, particularly those with larger campuses, may have some kind of shuttle bus service for students travelling around at night. These buses usually pick you up from a particular location on campus and take you back to your student accommodation or to a convenient spot to reach accommodation on campus.
Check your students' union or student services hub for timetables, ask fellow students or your student accommodation reps if any such service runs on your campus.
---
Phishing: how to avoid risks and stay safe online
Ultimate guide to moving to university
What insurance do international students need?
Advice for first generation university students
---
3. bSafe
The bSafe app can be downloaded free on iPhone and Android mobile devices. The app has a range of functions to help keep people safe while travelling.
An SOS button can alert your key contacts using voice activation, the ability to share your location, and live streaming and recording.
4. In-built phone apps
Depending on which phone you own, there are a range of in-built apps that can help keep you safe. If you have an iPhone, the Find My function can share your location with friends or family members who also have an iPhone. If you have an Android phone you can use the Find My Device function to keep track of each other.
Both types of phones also allow you to send your location to your emergency contact. This requires setting up, but is fairly easy to do. The functionality will vary depending on which Android phone you have, so have a look through your phone's features to check if this is available to you.
iPhone users can also set off an alarm if they press the side button five times in a row. So take some time to have a look at what your phone can do, and to set up some emergency contacts.
5. University safety apps
Some institutions have set up their own apps to keep students safe on campus and in the surrounding neighbourhood. One example is  SafeZone, which can be used at more than 30 UK universities.
Once a student has registered on the app with their university email address, any time they issue a call for assistance through the app the campus security team will answer the call and provide assistance. Universities registered on this app include the universities of Kent, Manchester and York. 
6. CampusSafe
Created by a group of students from the Rochester Institute of Technology, CampusSafe is an app that enables students at US campuses to contact emergency services or campus police with one click. 
Users can also report incidents to campus police using the app and there is an emergency button that can notify campus police of a user's location and enable them to quickly start a conversation with them.
7. Red Panic Button
This is a very simple app that installs a red panic button on your phone, which can be pressed in emergency situations and sends a text message and an email to your emergency contacts to share your location. 
Users can add the widget to their home screen for quick access and, aside from setting up your emergency contacts, this app is pretty easy to use.
Featured image
Image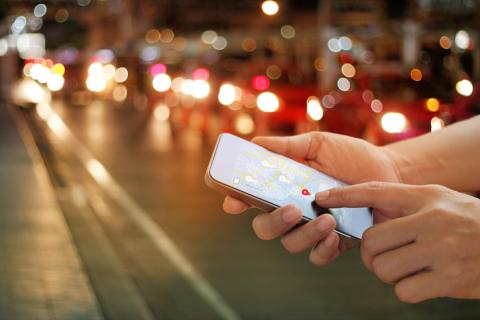 Standfirst
Staying safe is one of the biggest concerns for any student whether they are domestic or international. Here are some apps and services you can use to help you feel a little more secure in a new place