What is performing arts?
Performing arts is a form of creative activity that is performed in front of an audience, which includes drama, music, and dance. Degrees that focus on performing arts are highly practical, and actively immerse you in cutting-edge, interdisciplinary practice which prepare you to enter the competitive industry. 
Performing arts tends to include a wide range of specialisms, including acting, dance, voice, physical theatre, music theatre, sound design and digital video. Courses celebrate the array of possibilities within live and digital arts in a range of contexts.
How long does a degree in performing arts take? Well, at undergraduate level, most performing arts degrees are three or four years long but this will largely depend on where you study. They are usually awarded as Bachelor of Arts (BA) degrees, or less commonly, Bachelor of Performing Arts (BPA). 
---
---
What do you learn in a performing arts degree?  
Performing arts degrees are generally either practice-based – involving a great deal of actual performance from day one – or academic, which combines practical work with analysis of the background of the subject. Teaching throughout the degree is therefore likely to be delivered through a mix of practical workshops and lectures (however this will vary between universities).
Many universities also offer an option to undertake work experience during your studies, which is a great opportunity to develop the skills learnt within a professional context. This could also give you a head start upon graduation.
Most performing arts degrees offer an overall foundation spanning various disciplines, before giving students the chance to choose a particular pathway. However some universities do offer dedicated degrees for each of the main three branches of performing arts – music, dance and drama. 
There is another option, however, for students who want to keep their options open – or simply enjoy some variety. Some universities offer prospective students a chance to study performing arts alongside another subject as part of a joint honours degree. This is usually within humanities, such as English literature. Usually, it is possible to transfer to a single honours programme at the end of the first year if you require.
---
More subject guides:
What can you do with an art degree?
What can you do with a mathematics degree?
What can you do with a sports science degree?
What can you do with a degree in design?
What can you do with an architecture degree?
What can you do with a veterinary science degree?
What can you do with an agriculture degree?
What can you do with a business and management degree?
What can you do with a medical degree?
What can you do with a biology degree?
---
What should I study at high school if I want to study performing arts at university? 
In terms of academic requirements, some performing arts schools will be more specific than others. Some prefer applicants who have previously studied a similar or related subject at school. However many others are happy to accept students who have not previously studied any of the performing arts before.
Perhaps more importantly, however, prospective students are extremely likely to have to attend an audition to show off their talents. Universities will normally provide information on the audition format and how and what students should prepare. This may be in the form of a solo audition, or you may be assessed as part of a group, or some combination of the two.
Performing artists generally supplement their training, generate opportunities and enhance their creative knowledge through work experience and by participating in voluntary projects. Doing this prior to applying for university courses looks impressive and shows passion for the industry. Although largely unpaid, unless you're lucky, they are extremely valuable for showing both your interest while allowing you to learn from industry professionals.
---
Student experience of the performing arts 
Where do Oscar-winning actors go to university?
Why are there so few women in the arts?
---
What do people who study performing arts do after graduation?
Jobs directly related to a performing arts degree include, among many others: actor, community arts worker, dancer, music therapist or theatre director.
However it doesn't stop there, and graduates don't always fall into the main occupations. Other careers include: broadcast presenters, teaching – whether further education or school – scriptwriting and theatre stage management.
The majority of professionals in the industry work within the context of short-term or freelance contracts moving between different jobs and different fields. Due to the way the industry works, many opportunities come from word of mouth rather than job advertisements. Jobs can be found through networking, attending auditions, collaborating with other artists or even putting on your own shows. 
Salaries depend largely on the type of role and the size of production and are enormously difficult to calculate. A theatre actor's wage, for instance, depends largely on the size of the theatre.
Which famous people studied performing arts? 
Many now famous actors and actresses across the world studied an area of performing arts at university. Kristin Chenoweth, an American actress and singer with credits in musical theatre, film and television and a Tony Award under her belt, attended Oklahoma City University. Meryl Streep studied drama at Yale University and Tom Hanks studied theatre at California State University.  
Comedians Matt Lucas and David Walliams also studied performing arts at the University of Bristol. But, even for those who don't make it on to the stage or big screen, a performing arts degree can open doors to equally rewarding roles.
The Duchess of Sussex, Meghan Markle also studied theatre at Northwestern University before becoming a successful actress and then becoming UK royalty. 
Read more: Best universities for arts and humanities degrees
Featured image
Image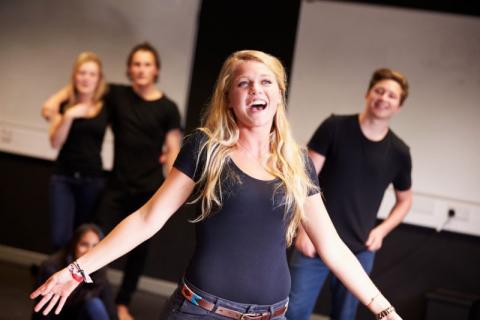 Standfirst
Why study performing arts? Your essential guide to what you will learn on a performing arts degree, what you should study to get your place on a course, and what jobs you might end up doing once you graduate