What is design?
Design is everywhere; physical spaces, virtual spaces, illustrations, graphics and photographs all influence our daily decisions. Design degrees now recognise the diversity of the creative industry and allow students to develop strong creative skills while exploring their own desired disciplines. 
Studying design is challenging but rewarding, and a degree in the subject can take between three and five years to complete. Design degree courses equip you with an ideal combination of both practical and theoretical skills. The majority of design graduates specialise in a specific area – for example 2D or 3D-design, product or web design, fashion or textiles, or photography – but there are courses that give a broad overview of the whole process. 
Design degrees are a popular and competitive choice, and studying it at university requires a particular set of skills. In comparison to other professions, design students work with their hands and that is practised from the very offset during university. 
---
---
What do you learn in a design studies degree?   
Design degrees can be both wide and narrow when it comes to its content – and they can come in a huge array of specialist offshoots. Those on offer include: graphic design, illustration, textiles, interior design, fashion design, product design, animation, furniture design, jewellery design, computer games design and theatre design. Students tend to choose a particular course to reflect their future career aspirations. 
The approach differs between universities and you should fully research the various modules, and the possibility of industry placements, which are a great way of getting experience within the industry prior to graduation.
Key parts of BA (or undergraduate) programmes include 3D materials and technologies, advanced computer-aided design and manufacturing, image production, manipulation and film making, as well as fundamental aspects of typography and graphic layout. Degrees teach budding designers everything from how to accurately draw – both by hand and computer – to design theory. 
Some academic institution, concentrate on giving its students a detailed understanding of the theory of design while others immediately concentrate on the practical elements of design. Other universities have courses which aim to prepare students to develop strong design thinking while exploring your own creative focus.  
---
More subject guides:
What can you do with an art degree?
What can you do with a mathematics degree?
What can you do with a medical degree?
What can you do with an architecture degree?
What can you do with a performing arts degree?
What can you do with a sports science degree?
What can you do with a veterinary science degree?
What can you do with a business and management degree?
What can you do with a biology degree?
---
What should I study at high school if I want to study design? 
Most courses are non-specific in what subjects candidates study, though some may ask for achievement in an art-related subject which could include art, design, graphic communication, textile design, and photography. 
The ability to provide an impressive portfolio of design and artwork alongside your application, however, is perhaps most important. In addition, the majority of candidates are interviewed to give them a chance to discover more about the prospective student's aptitude and enthusiasm for the subject. Some courses expect students to have completed a foundation year at university first. 
Each university will require different grades; some higher than others. 
---
Student experience of studying design
How to break into the fashion industry
IBM and Google on why design graduates are crucial to their industry
Encouraging entrepreneurship in students
Seven unusual degrees you might not have thought of
---
What do people who study design do after graduation?  
Salaries depend largely on the type of role and location. Pay largely depends on what duties you hold, as well as the size of the company. 
Design degrees tend to offer specific career opportunities for graduates, linked to the particular field of specialism and the artistic sector provides plenty of different opportunities for design graduates. 
The skills design graduates learn are aplenty – such as logical thinking, an eye for detail and project management – which are appealing to any employer whether in design or not.
Obvious career paths for design graduates include web design, interactive media and video editing. However graduates are certainly not limited to those and depending on their passion can choose from careers such as: interior or fashion design, product design, film and television production or sub-editing within magazines and newspapers or even landscape gardening.
Another increasingly popular avenue is to teach design at schools or colleges or even work for specialised magazines looking for graduates who can both write well and know the industry inside out.
Of course, many design graduates take the skills they have learnt elsewhere and find their way into less directly-related graduate professions, including the civil service and the charitable sector.
Which famous people have design degrees? 
Before finding their way to fame, many household names actually once trained in design. The late Harry Potter actor, Alan Rickman was a graduate of Chelsea College of Art and Design before going on to complete a postgraduate degree at the Royal College of Art. He set-up up his own design agency called Graphiti before turning to his true passion, acting.
Also, Kaiser Chiefs frontman Ricky Wilson studied at Leeds Metropolitan University before working as a part-time design lecturer at Leeds College of Art.
Read more: Best universities for arts and humanities degrees
Featured image
Image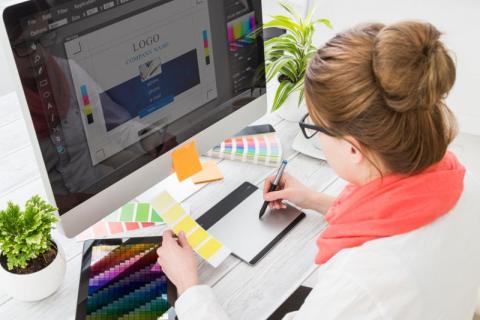 Standfirst
Why study a design degree? Our essential guide to what you will learn on a design course, what you should study to get your place on a degree, and what jobs you can get once you graduate