Sponsored content: created in partnership with KU Leuven.
Situated some 25km east of Brussels, Leuven may not be as well known as Belgium's capital city, but it has plenty to offer students. For instance, it is home to KU Leuven, the country's largest university, with some 65,000 students.
Those enrolled at KU Leuven will experience a higher education institution rich in tradition, having been a university since 1425. They will also find a truly welcoming community, with 21 per cent of students coming from abroad, 103 degree programmes offered in English, and courses also taught in French, Spanish and Dutch.
More broadly, students at Leuven will encounter high academic standards and a range of support services. These include help with mental well-being, housing and healthcare, whether individuals are familiar with the city or not. There are several ways for students in Leuven to seek assistance, ranging from university open days, speaking to their exchange or programme coordinator or visiting a registered Intercultural Meeting Centre.
Students who pick Leuven as a study destination will find themselves in good company. Leuven is a student city, with lots of attractions and activities to enjoy. English is widely spoken at universities and elsewhere, serving as a lingua franca for students from around the world.
As Leuven has been home to three successive universities dating back centuries, the city has been the seat of numerous academic libraries, many of which have interesting histories. The University Library provides a beautiful panoramic view of the city, while its tower contains a carillon of 63 bells commemorating the 1,792 American engineers who died in Europe during the First World War.
Away from academic life, students in Leuven will appreciate the size of the city, which is easy to get around safely by bicycle. It's one of the favoured ways of taking in sights such as Leuven Town Hall, built in the 15th century and located opposite the impressive St Peter's Church. The botanical gardens, created by the University of Leuven for its medical students in 1738, still inspire visitors to this day. The diverse plant collections represent fantastic surroundings for students seeking a quiet place to study.
Students based in Leuven won't want to miss the Grand Beguinage architectural complex, a Unesco World Heritage Site dating from the 13th century, or the Vaartkom neighbourhood, fast becoming one of the trendiest parts of the city. Another must-see activity concerns Leuven's most famous export, Stella Artois. Still brewed in Leuven, the brewery can be visited on Saturdays.
For students under the age of 26, it is highly recommended to pick up a GoPass, which grants you 10 rail trips anywhere in Belgium for just €50 (£44). This means for just €5 per trip, students can get to the Belgian border, from which they can visit famous cities such as Amsterdam, Paris, Maastricht and Luxembourg in neighbouring countries. This is one of the reasons why Leuven is such a fantastic destination for any student who likes to travel.
Find out more about KU Leuven.
Featured image
Image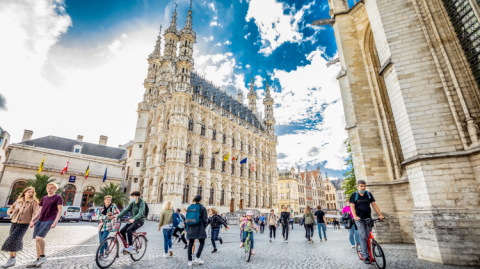 Standfirst
A historic city with a rich academic culture, Leuven boasts a welcoming atmosphere and a wide range of support services for students
Sponsor text
Sponsored by
Created date
2023-02-08T08:00:19+0000