In the 2021/22 academic year, more than 400,000 international students registered at French higher education institutions. Their choices were driven by several factors, including academic excellence, the wide choice of programmes on offer and the affordability of education in France, as well as the French lifestyle.
During a webinar hosted by Times Higher Education in partnership with Campus France UK, part of the French Embassy in the UK, panellists outlined several reasons why France is a great place to live and study.
World-class education
Home to 74 universities, 200 engineering schools and more than 300 business schools, it's little wonder France has produced 66 Nobel winners. In 2022, the Fields Medal and the Nobel Prize in physics were awarded to a French mathematician and physicist respectively.
The country also boasts a diverse range of programmes at its 650 arts and design schools, from architecture to performing arts, cooking and fashion. This year, two French universities appeared in the top 10 in the 2022 Times Higher Education Young University Rankings. "France has a world-class education system that we are really proud of," says Lucile Génin, head of Campus France UK.
Whether applying for undergraduate or postgraduate courses, a short course or exchange programme, Campus France UK can assist students in building their study proposal and, once accepted, with the Études en France and visa application forms.
Affordable, flexible courses
Given the prestige of French higher education, the cost of tuition is a surprising benefit – especially when compared with the US and UK.
According to Lucile Génin, undergraduate degrees in France cost as little as €170 (£146) for European Union students or €2,770 per year for those from outside the EUFor a master's programme, students can expect to pay between €243 (£210) and €3,770 per year – a fraction of the cost of UK courses.
This, and the fact that course content is flexible, was a big part of the appeal of studying in France for Lucie Lawson, a master's student at Panthéon-Sorbonne University. "Studying in France is much more flexible than it is in the UK," she says. "For my gender studies master's, I take modules in early modern literature, anthropology, history, economics. [This flexibility means] everyone is fluent in lots of areas."
The structure of the French master's was also "really appealing", she adds. Courses last two years and include an internship year, "something which is really unique compared to the UK".
A truly international environment
France has a high percentage of international students (15 per cent), particularly at PhD level (42 per cent). As a result, a growing number of university courses, including 1,600 graduate programmes, are taught in English – useful to know for those who have yet to master the French language.
For Claire Siviter, who studied French theatre for her PhD, building an international network of friends and colleagues in France led to opportunities for work and further studies. "I still work with some of the colleagues I met there," she adds. "It has been life-changing."
Sweta Moda, a student at the London School of Economics, undertook an exchange programme in France last year. "Studying abroad allows you to develop unique connections with people and develop extracurricular skills," she says. "France was the perfect destination for me to build cross-cultural bridges."
The panel:
Lucile Génin, head of Campus France UK, French Embassy in the UK

Jamie Ramacciotti, head of content – Student events, Times Higher Education (chair)
Lucie Lawson, student, Panthéon-Sorbonne University
Sweta Moda, exchange student at HEC Paris, London School of Economics
Clare Siviter, senior lecturer in French theatre and performance, University of Bristol, and alumni, Paris Nanterre University and University of Bordeaux

Damien Vialle, higher education attaché, French Embassy in the UK
Find out more about Campus France UK.
Featured image
Image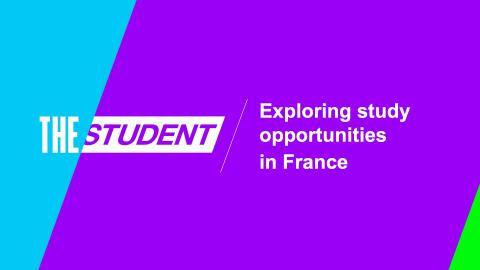 Standfirst
International students are increasingly going to France for their higher education studies. Discover why they have chosen France for their future