For years, universities have relied on a handful of long-standing tests to demonstrate students' English language proficiency. While widely accepted, these tests can be expensive to sit and often require in-person attendance.
The Duolingo English Test (DET) – now accepted by more than 3,500 programmes globally – is disrupting the status quo by offering one of the world's first high-stakes English proficiency tests online. 
"Our mission is to make education universally available," explains Caroline Fisher, brand storyteller for the Duolingo English Test (DET). As creator of the most downloaded education app, the language learning company wanted to remove the unnecessary barriers that learners have faced historically when trying to certify their proficiency.
The test uses artificial intelligence and the latest assessment technology to offer an adaptive process, meaning it changes depending on the student's response to each question.
"We have such a huge bank of items that every test we offer can be virtually unique, which strengthens the security of the test and minimises the risk of cheating," Fisher says. Results are available in two days, and students can send a detailed breakdown of performance to university admissions officers. 
Biometric technology ensures the correct student is certified – at the start, a photo is taken of the student, and they are required to show a passport or other accepted identification to the camera. The test can be taken anywhere, making it accessible to students for whom the university application process is already expensive. The $49 (£39) price point makes it a lot more affordable than other tests and means it's more feasible for students to retake if necessary.
The pandemic has accelerated the acceptance of digital learning, assessment and proctoring, and universities are readier than ever to embrace online alternatives to paper tests. "The Duolingo English Test is taken online, on demand, from anywhere in the world.  It's a resilient assessment option that is accessible in the face of change," Fisher says.
A host of resources is available for students to prepare for the test. Test readiness materials and a 15-minute practice test are available free on the DET website, while YouTube offers a treasure trove of readiness videos by the DET and other popular education YouTubers such as Teacher Luke.
"Part of our mission is that we want to remove barriers, not create them, so we provide as many resources as we can for free," Fisher says. "Students can take the practice test as many times as they want."
Crucially, students are tested on how they would use English in a work or university environment, combining speaking, listening, reading and writing rather than testing these skills in isolation. "We want to measure English proficiency, not knowledge of the test. The best advice I have for test takers is to immerse yourself in the language before taking the test, and make sure to practice all your skills," Fisher concludes. 
Find out more about the Duolingo English Test.
Featured image
Image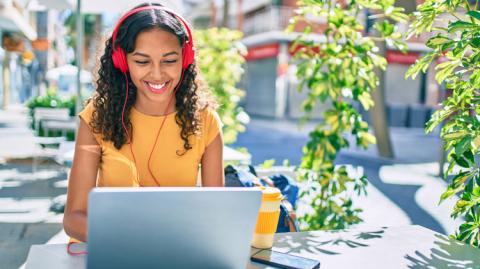 Standfirst
The market for English proficiency tests has been dominated by a few players for decades, but Duolingo's digital English test is gaining popularity and acceptance at universities globally. What can students expect from the test?