The University of Oxford and the University of Cambridge, together known as Oxbridge, are two of the most well-known and prestigious universities in the world.
Due to the highly selective admission process and the high number of bright and highly qualified applicants, their admission rates are quite low. For example, in 2018, according to the University of Oxford annual report, of more than 47,000 applicants, less than 9,000 were accepted (19.1 per cent).
A successful application will tell your story thoughtfully and persuasively to people who have never met you. While each institution has its own admissions standards and evaluation process, admissions tutors in elite colleges generally seek individuals who will thrive in a rigorous academic environment. This article demystifies the application process for Oxford and Cambridge, based on my experience of applying to both. 
Don't be intimidated by the prestige of these universities
Many people are intimidated by the Oxbridge reputation and many fear not fitting in. 
The high number of graduates who are world leaders and globally influential personalities can be off-putting for people from underprivileged backgrounds who assume that for someone to make to these colleges, he or she must belong to the upper echelons of society. While I cannot deny that most students are privately educated and come from relatively wealthy families, any person who works hard regardless of background has a real shot.
My early schooling was under a tree and later in a bombed-out roofless school in war-torn Somalia. 
My background does not fit that of a typical Oxbridge student whose life has been characterised by privilege. But I never saw myself as inferior to anyone, anywhere in the world.
Elite Western universities remain magnets for the best and brightest students from the developing world, and they have an eye for spotting talent, but you have to apply to give yourself a chance to be accepted. 
My acceptance to Oxford was a massive milestone in my life. As I rub shoulders with the best in the world, I never forget my humble background. And If I did it, so can you.
Choosing your course and college 
Closely researching the courses and global rankings can help you to choose a course. For example the philosophy, politics and economics (PPE) course at Oxford is highly regarded, as is life sciences at the University of Cambridge. 
Do you want a course that commands higher earnings or one that aligns with your core values? Is it more important to do a degree that sets you up for a career or one that you are passionate about learning more about? It is up to you to decide.
---
Common grammatical errors to avoid in your university application
Applying through Ucas as an international student
Top tips for writing an original personal statement
How to choose a UK university
---
A personal statement should convey your passions
The personal statement gives you the opportunity to make an impression on admissions tutors. It should demonstrate your passions, interests and dreams and your suitability for the course.
Give it a punchy introduction but don't be overly dramatic – it is important to find your "hook". Then outline your relevant skills, experience and achievements gained from previous education, work and other extracurricular activities. State how such activities helped you cultivate time management, communication skills and strong leadership, ensuring you give examples where possible.
It is essential to state how you have engaged with your course of interest, whether it is through reading, attending lectures, exhibitions or anything else that is relevant. If invited to an interview, don't forget that interview tutors will use this to guide their questions, so be prepared.
Just like your strong opening, your concluding paragraph must carry the same conviction.
Interview panellists want to see your brain work in real time
The Oxbridge admission process will include an interview that can be done in person or over Skype. 
Reaching the interview stage is already an achievement, given how rigorous the admissions process is. This interview aims to discover your suitability for the course and your ability to engage in discussion and debate. Interviewers want to see your knowledge of the subject, communication skills and strong analytical and reasoning skills and will question you on the points you made in your personal statement.
Keep your answers short but informative, and try to build a rapport with your interviewers.
Talented but financially challenged?
Lack of finance might be the chief obstacle preventing you from attending your dream university. But remember that there may be generous scholarships providing financial support with fees and living costs. These include hardship funds, travel and study grants, and research grants.
These substantial financial resources are often open to international students – so why not give it a go? Take time to research and identify which scholarships you are eligible for and get in touch with admissions offices if you have any questions.
Additionally some students subsidise their living cost through taking up part-time jobs at the college or in town.
English test for international students
Common English tests that are often required include TOEFL, IELTS or PTE. 
Colleges are not oblivious the fact that many talented students come from countries where English is not the main language of instruction but at the same time a good command of the English language would benefit your application. Over the years, I have seen many students from non-English speaking countries get accepted, often after taking the test repeatedly to achieve the required grades. There are many ways to improve your English, so be sure to research the tests and take one before applying.
What to leave out of your application
Deciding what to leave out of your application is just as important as what to put in, usually because there is limited space to fill.
While it is fair to acknowledge people who have helped you, remember that this application is about you.
There is no need to discuss the prestige of Oxbridge as everyone knows this and it takes up space.
Avoid offensive language and, like any other application, make it organised and coherent. So proofread it thoroughly before submission.
Read more: Dispelling the myths around elite universities
Featured image
Image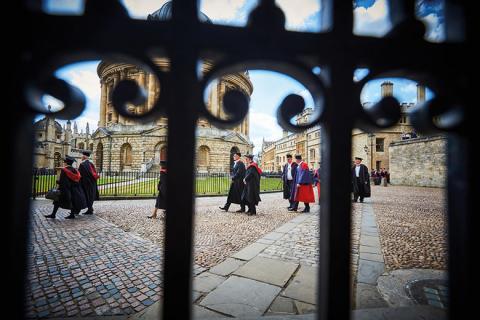 Standfirst
Somalian student Hamse Abdilahi shares what he learnt through applying to the Universities of Oxford and Cambridge and how students should not be put off by their prestige