A satellite campus is a branch of a university located in a different country, state or area from where the main campus of the institution is situated.
Multi-campus universities are attractive to international students for many reasons, from the range of courses they offer to the international atmosphere and the chance to gain credentials from a globally recognised institution, often at a more affordable rate.
Eugenie Back, Muhammad Abbas and Kinjal Joshi are all international students studying at Middlesex University's satellite campus in Mauritius.
In this video, Eugenie shares her favourite things about studying at Middlesex University Mauritius, from soaking up a different culture to exploring island life and living on campus.
Muhammad Abbas answers some common questions about studying at a satellite campus in Mauritius, including whether you can work during your studies and how many hours you can work on a student visa for Mauritius.
Kinjal talks about the kinds of careers support available at her institution and different careers events that she has found useful during her studies.
For more information on branch campuses:
Featured image
Image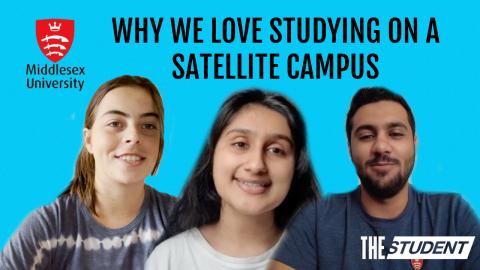 Standfirst
What is a satellite campus and should you apply to one? Three students share their experiences of studying at a satellite campus in Mauritius