Some of the most prestigious and oldest universities in the world are located in the UK, including the University of Cambridge.
However, if you look beyond those institutions you'll find that the UK has a number of brilliant universities that can offer international students a fulfilling and enriching study-abroad experience.
If the UK is a potential study-abroad destination for you, this webinar will be essential viewing. A panel of experts from across the sector came together to discuss the process of applying to a UK university as an international student, scholarship options, how to find accommodation and the post-study work opportunities.
Guy Doughty, director of UK operations at SI-UK, explained the different English-language requirements that international students would need to apply to a university in the UK. He also outlined various scholarships options.
Maggie Dallman, vice-president (international), Imperial College London was ensuring that students would still experience some of the social aspects of being at university while continuing to follow government guidelines and social distancing measures.
Leigh Pulford, CMO and co-founder of Casita, discussed how different accommodation providers were making sure that students felt safe in their accommodation and also spelled out the processes for obtaining refunds if students decided not to stay in their chosen accommodation.
Watch the full webinar below:
Read more: Best universities in the UK
Featured image
Image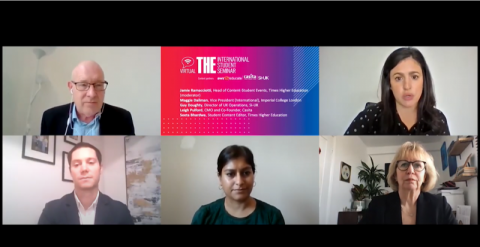 Standfirst
For anyone considering studying in the UK, this webinar will help to answer any questions or concerns you might have. From scholarships to applications and accommodation, this session provides would-be students with all the information they need about university life in the UK