Sponsored content: created in partnership with the University of Warwick.
Knowledge is power, and for students, gaining an understanding of the labour market is more important than ever. The Student Opportunity branch of the careers team at the University of Warwick aims to equip students with the knowledge they need to enter the workforce, according to Anne Wilson, head of careers at the university.
"We help students form the bridge between life at university and beyond. We celebrate their whole university experience and help them articulate that to recruiters," she says. One-to-one support is available for up to two years after graduation if graduates have not had a job or further study offer when they leave university. This support is designed to help graduates make choices about the career path they're interested in. Help is also available for those looking to research potential employers and understand what they're looking for. 
There's no denying that the pandemic has made for a turbulent jobs market, so one of the key roles of Warwick's career team is reassurance. Regular updates on the graduate labour market – provided by Prospects Luminate – give an up-to-date date picture of the jobs landscape.
Students are encouraged to explore their strengths and motivations rather than focus too narrowly on one dream job. "We work with students to help them understand that their first job is likely to be one of many during their working lives and they may not have heard of some of the jobs they will do," Wilson says. "Students need to be flexible and keep adapting as there may be several changes in their career lifetime." On a practical level, the careers team offers support in preparing CVs and developing interview techniques, as well as providing advice on how to develop soft skills such as assertiveness and time management.
There are opportunities to gain experience with and access to employers, many of which ran virtual skills events during the pandemic. Within Student Opportunity there are myriad other programmes specifically designed to support the development of students' skills, wider employability and personal growth. There is the Undergraduate Research Scholarship Scheme, where students can take part in a paid research project at the university or overseas, as well as an internship programme with local small employers.
A number of top recruiters support the university's Sprint programme, a personal development programme aimed at building women's confidence, networking skills and assertiveness.
For students interested in a career outside the UK, the TeamWork programme is a four-week international virtual internship involving students working on an employer project (many offered by Warwick graduates) with students from other university partners around the world. The reach of the programme has been specifically extended to new partners this year, in recognition of the loss of student mobility opportunities, which are often crucial to their success.
The careers team at Warwick is not just there in the lead-up to graduation. The careers life cycle begins when students arrive, kicking off with a week of welcome activities, and providing graduate support for life. There are a host of tools available to help ease the transition from university to the workplace, including the Graduate Survival Toolkit, which includes video profiles on different careers, personality quizzes and a job match tool.
Visits from alumni show undergraduates that career paths are not always straight or predictable. The Warwick University Alumni LinkedIn group, where students can network with alumni, offers further support. "They tell their own unique stories. Often, a crazy-paving route can be the most productive, and that can be really reassuring," says Wilson.
Find out more about the careers support available at Student Opportunity at the University of Warwick.
Featured image
Image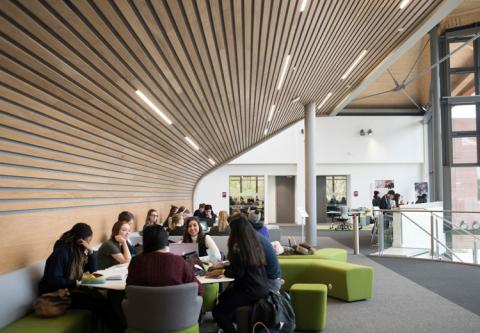 Standfirst
From internships to one-to-one support, the careers team at the University of Warwick can help students explore their next steps