I started my university journey in 2011 at the University of Mostaganem in Algeria studying English language, literature and civilisation then moving on to an MA in applied linguistics at the same university, where I graduated in 2016.
After getting my MA, I was lucky enough to receive a scholarship to further my postgraduate studies in the UK. For someone who never had an exchange programme abroad, or study-related trips, it was an exciting opportunity.
I did an MSc in educational research in 2017/18 then I started my PhD in education in 2018. British universities are multicultural hotspots and welcome students from different continents. Here I would like to discuss the highs and lows of this transition as someone who came from a non-Western educational institution to do a PhD at a Russell group university in the UK.
Finding a PhD offer
Before flying to the UK in September 2017, I had to find a PhD placement and a supervisor to work with during my doctoral studies. So, I had to write a research proposal, which was something I had never done before. When I did my MA in Algeria, I just spoke to my supervisor in my department about my research topic and she agreed to supervise me.
I knew it was important to write a research proposal at PhD level, but hadn't realised just how important it was. Perhaps I thought my research idea was original and I would be accepted quite easily.
Consequently, my research proposal was rejected by a few universities and these rejections affected my mental health. But I took the feedback I got from potential supervisors and I edited my research proposal to fit in with the doctoral standards of British universities.
Doing so made me realise how descriptive and superficial my writing was, which is not encouraged at British universities, especially at PhD level.
Luckily, after a few weeks of polishing and tweaking my research proposal and discussing it with PhD students who were already in the UK, the University of Exeter offered me a PhD placement – I was thrilled.
To future international PhD students, be aware of your writing weaknesses, reflect on them, and improve through seeking help in adjusting your style, tone and structure.
---
International perspective: students from Hong Kong in the UK
International perspective: a Polish student in the UK
Applying through Ucas as an international student
Top tips for writing an original personal statement
---
Identity crisis and transitioning into British life
Transitioning from the University of Mostaganem to the University of Exeter made me question who I was in a predominantly white society, especially at the beginning of my studies.
Something that is harder for international students compared with home students is understanding both how university works and how British society functions.
Transitioning from a background that was totally different from the West in terms of culture, traditions, ways of learning, working and living, religion, and so forth was quite difficult.
At the beginning it was quite hard for me to learn everything (university, accommodation, health system, navigating online platforms, finding the right resources, trusting services and people) while kicking off my MSc.
But many British universities, including mine, provide support for students regardless of their background and nationality to get through this stage smoothly.
When I started my MSc, I was learning a lot through discussions and debates during classes, workshops, with friends and so forth. This was good because it helped me to expand my limited lens on the world.
However, it also created conflicts between the social, cultural and educational upbringing I brought with me from Algeria and the one I was experiencing in the UK.
As a result, I spent months and months trying to understand myself, reflecting and learning not to take things for granted, seeking purpose and agency, understanding my ideas and beliefs and where they come from. This is an ongoing process.
Some international students might feel ashamed of asking questions for fear of sounding foolish, but honestly if you do not ask, you do not know.
For example, my British housemates asked me many questions about Ramadan, which I observe each year. They apologised for their ignorance but I appreciated their desire to learn. Whenever I want to understand something, they are happy to clarify or explain. I think as long as communication is based on respect, no question is silly.
If you are reluctant to ask questions, there are vlogs and YouTube channels created by students for students. I think this is a good way to get a snapshot of university life or a particular society.  
These were my main struggles in making the transition from my university in Algeria to the UK. It is not a straightforward process but as long as you learn to reflect, seek help when necessary and take control, things always get better.  
Diversity, difference, and friendship
I think one of the most beautiful aspects of universities in the UK is the multicultural student body. I have friends from all over the world and I have come to understand many aspects of their respective countries, including their social, economic and political systems.
In contrast, when I studied in Algeria the majority of students were Algerian.
Embracing such diversity and difference helped me to be more open and considerate as well as illustrate my own background to many people who knew very little about Algerian culture.
Developing life skills
I have learned a lot of life skills at university in Algeria and at the University of Exeter.
Moving overseas to study has taught me to be self-reliant, responsible and able to deal with loneliness in a foreign country.
During my time at university I have improved my time management, organisation, communication, networking and emotional intelligence.
I took on a paid job as a web designer for MA student content in education despite having no previous experience. I was nervous but it turned out a success with a little help, practice, patience and perseverance.
So I would recommend that students, of course, make their studies number one priority but also develop skills outside their courses.
I am still doing my PhD and I am still learning new things. I also keep challenging myself and aiming higher to improve myself and widen my career prospects.  
Read more: How to choose a UK university
Featured image
Image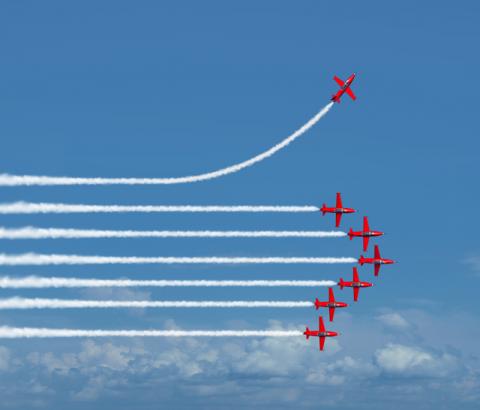 Standfirst
Learning how adapt to a British university after studying at an Algerian one was a tricky transition for PhD student Riadh Ghemmour