Sponsored content: created in partnership with University of York.
For many students, it has been a difficult year. The pressures of the pandemic, with its disrupted teaching and the required social isolation, have made assessments even more stressful. And now the wait is on for results day on 10 August. It's perfectly normal to feel anxious and there are ways to ease the tension and prepare for the year ahead – whatever your marks.
Yasmine Clarke, mental health practitioner at University of York, spoke to Times Higher Education and gave her top tips and recommendations to cope with the nerves while waiting for results.
Recognise the signs of stress and anxiety
"Some people might not recognise that what they're feeling is stress or anxiety," says Clarke. "And it is important to identify the signs and symptoms."
She breaks them down into four categories: physical, which could involve shaking, rapid breathing, or stomach churning; emotional, such as feeling low, irritability, guilty; behavioural, which could include poor concentration, avoiding other people and detaching from them; and cognitive, in which people ruminate on negative thoughts about themselves.
She adds that all these feelings are to be expected. "It's normal to feel anxious before a big life event, and students have worked really hard in circumstances that no other cohort has experienced before," she explains.
Find ways to relax that suit you
There is a lot of information out there about activities that have been shown to reduce stress, but "just because it is popular and other people are doing it doesn't mean it is for you", says Clarke. "Everyone will be an individual in this."
She lists a number of activities that have been scientifically shown to reduce stress; these include aerobic exercise, spending time in green spaces, reading fiction and prayer or meditation. It is important to find stress-reducing activities that work for you, she says.
From running in a park to snuggling down with a good book, there are many enjoyable ways to relax.
Realise that there is no one 'perfect' path
Students place a lot of importance on their A-level results but can reduce this by having alternate options in place.
"There is so much pressure on young people to have a set path and for that path to be perfect," says Clarke. "Pressure to know what you're going to do, when you're going to do it, and for it all to work out as you imagined." But as the Covid-19 pandemic has shown us, that is not always possible. For many prospective and current students, their path looks very different to the one they initially imagined.
"That is very hard to accept sometimes," says Clarke. "But just because you don't achieve things when and in the way that you want to, it doesn't mean you won't still achieve."
Clarke, who trained as a psychotherapist, says that she took three years off between her undergraduate and her master's, and that this made her career path very different to that of her colleagues. "I still came out the other end and it worked out."
Prepare in advance
On the practical side of things, make sure that you are prepared in advance in case you don't get the grades that you want. "Being prepared can also help reduce stress," says Clarke says. Make sure that you have looked at other university courses that you would consider attending through Clearing if your grades are not as high as you would like – or through Adjustment, if they are higher. "Have their details, the hotline numbers and the course codes ready, so that if you need to make the call you have all the info you need," she advises.
The University of York, for example, offers prospective students email updates about clearing and adjustment vacancies, as well as guides written by their experts.
Clarke also encourages students to remember that the people on the hotlines are trained to help you through this process.
Ask for help
Importantly, students do not need to feel alone if they are anxious or stressed about their future, says Clarke. Schools offer career guidance and counselling, and university courses often have contact details for course leaders and administrative staff.
"When at the beginning of the journey, it can be difficult to see that it will work out," says Clarke, "but it will – even if that path doesn't look exactly like the one you imagined."
Clearing provides a late opportunity to get a place at an excellent university. Find out more about clearing.
Sign up to receive clearing advice by email.
Featured image
Image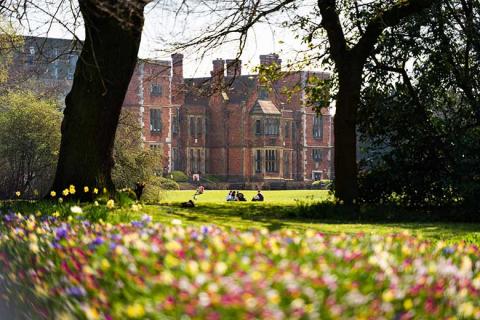 Standfirst
From getting lost in a good book to prepping a Plan B, there are proven ways to reduce stress