In the first of a three part series on the growing number of study and work opportunities in Japan, we explored how Japanese universities are seeking to attract more international students. In this second instalment we share what it is like to study at a Japanese university, based on our personal experiences. In both cases, Japan was an important step on our respective paths to postgraduate study at the University of Oxford.
Warren Stanislaus – four-year bachelor's degree in liberal arts at International Christian University (ICU), Tokyo
In all aspects of student life, the International Christian University successfully weaves together a Japanese and international experience. As a non-native Japanese speaker I had to enrol in the university's intensive Japanese language programme. Native Japanese speakers are required to do the same for English.
I could also choose classes from a range of options across the humanities and sciences. The university's bilingual approach meant that these electives are offered in English, Japanese or a mix of the two. For example, I took a Japanese/English seminar in American literature. The lecture was in Japanese, the texts were in English, class discussions were in Japanese, and the exams and essays could be taken in whichever of the two languages you felt most comfortable with. 
I lived in on-campus accommodation for the full four years. The dorm, Global House, was a community of 64 students. Half of them were Japanese and half were international. The dorm also served as a support network. Each year, the dorm student committee helps new foreign students settle in through social activities and administrative assistance with setting up bank accounts, health insurance and mobile phones.
Living in the dorm gave me the chance to speak Japanese in everyday situations beyond the classroom. I truly learned to live as a Japanese student – participating in extracurricular activities and seasonal festivals, dressing fashionably for class, grappling with the job-hunting process and making late-night bicycle trips to the convenience store or ramen shop.
I was able to connect with other international students and learn about their cultures. Despite being from very different  backgrounds, we were all tied together as gaikokujin (foreigners) in Japan. My roommates and some of my closest friends were from Russia, Korea, the US and Italy. We remain in contact today and have stayed at each other's homes. ICU was not just a bridge to Japanese society, it was also a gateway to the world.
Sources of funding for international students are plentiful. I benefited from an internal university scholarship at ICU as well as the Japan Student Services Organization scholarship. You can work for up to 28 hours a week on a student visa and 40 hours out of term time. I did exactly that, working in sales and marketing at a Japanese travel agency for two years earning about 1,000 yen (£7 pounds) per hour. Private English tutoring and conversation partner jobs are also easy to come by.
Student life in Japan can be challenging. While in the UK there is an emphasis on independent study, in Japan there are a lot of contact hours and less homework, individual classes are long and attendance is strictly monitored. For British students, university in Japan will feel less like adulthood and more like a continuation of secondary school.
You will also need to work hard to make the most out of the experience both academically and socially. First, Japanese students devote much of their time to clubs and societies – some groups practice for a few hours each day, requiring serious commitment. Joining a club is therefore vital to making and spending time with friends. I joined the inter-dorm football league and the koto (Japanese harp) society.
Second, in Japan, students famously work hard during high school and then let their hair down at university. And in class I often saw Japanese students literally letting their hair down – to cover their faces while they slept. An earnest dedication to club activities in the first three years and the intense job-hunting process in year four can often detract from one's studies. But the infrastructure is there for you to thrive academically. My professors had all graduated from leading global universities and when I sought their advice for research and further study they set me on the right path to academic excellence. In Japan, the opportunities are abundant and the doors are there to be opened.
---
Best universities in Japan
International perspective: a Brazilian in Japan
Foreigners in Japan: student stories
---
Kara Juul – one-year exchange at Toyo University, Tokyo (business studies and Japanese at Cardiff University)
The prospect of a year abroad can be daunting for any young undergraduate, but signing up for a degree in Japanese means that at some point you'll be heading off to the other side of the world for your studies. 
Although I arrived in Japan for my year abroad alone, it didn't stay that way for long. Living with 30 other 20-something international students in our dorm in central Tokyo meant that I had the incredible opportunity to make friends with people from all over the world. Rent was low, the location was fantastic and having our own space (exciting for our Japanese friends, most of whom lived with parents) meant that International House became the central social hub for Japanese and exchange students alike – with some huge, multi-floor parties.
My exchange institution, Toyo University, took settling us in very seriously. Early on we were paired with Japanese students to help us with everyday things, we were encouraged to join societies (I later helped set up a new one), and even classes were structured to be sociable.
My daily schedule consisted of intensive language lessons in the morning, and in the afternoon a mix of elective classes, club activities, or just free time hanging out with friends. I still think the language tuition was some of the best that I have ever received, and combined with the opportunity to test it out "in the field", my Japanese improved dramatically. Taking regular classes (business studies and a literature course) was a big stretch for my language abilities, but Toyo always encouraged us to push ourselves. Whatever your level when you arrive – I had friends who only knew konnichiwa when they got off the plane – Japan is the best place for improving language skills.
The key to making the most of your year abroad in Japan is to focus on the things that you can't do back at home. Staying in your room all day studying kanji (Chinese characters used in the Japanese writing system) or cramming grammar is not  an efficient use of your time.
Join the saakuru (club), go for drinks at the izakaya with your friends, go shopping or out for food, and talk to everyone. Put down the textbook and pick up a local newspaper or magazine. You will never have a better chance to experience the culture and language as you do now. 
If you put yourself out there you'll make lasting friendships. I still see my Japanese friends from my time at Toyo every time I'm in Japan (or they're in the UK). I'm in daily contact with my former flatmates, and we meet up surprisingly regularly considering we're from a number of different countries.
Friendships like these are rewards in themselves but my year abroad also allowed me to make contacts that I still use in my research today. It was one of the best years of my life, and a truly transformative experience. 
Read more: How Japanese universities are attracting more international students
Featured image
Image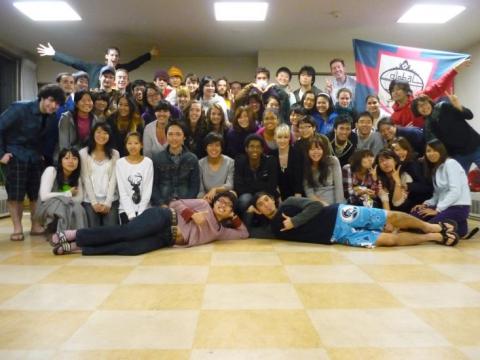 Standfirst
In the second blog post of a three-part series, student bloggers Warren and Kara explain the benefits of studying abroad in Japan