Sponsored content: created in partnership with Pearson.
Since Covid-19 disrupted our lives in 2020, there has been a spike in people learning new languages. But as the world begins to adjust to a post-Covid future, many students are beginning to look at studying abroad in 2022.
If you are getting ready to head overseas, take the time to brush up on your skills before you go. Follow these four methods to improve your English, including study tips and online resources:
Listen to podcasts
In recent years, podcasts have grown to become a popular language-learning tool. They provide a fun way to improve comprehension skills, allowing listeners to hear how English speakers converse and helping you get a better grasp on how English sounds outside the classroom.
You can find podcasts to listen to on just about any topic, from current affairs to true crime, business arts and culture. Many also offer transcripts and vocabulary lists to help you study.
Study tips
If the podcast you're listening to offers a transcript, read along as you listen
Stop the podcast every 20 seconds or so to repeat after the person speaking
Take note of how they pronounce words
Write down new vocabulary in a notebook
Define your new words at the end of each episode.
Write a journal in English
Many people began to write journals in the pandemic. If this is something that interests you, try writing a diary in English to recount your experiences as you prepare to study abroad. Not only will this improve your writing skills, but it can also be a good way to get organised and clear your mind when life gets stressful.
Study tips
Set aside a few minutes every day to write. What have you done today to get ready to move abroad? Did you learn something new about the country you want to study in? What is an interesting fact you discovered?
If writing a few paragraphs each day sounds daunting, try just writing one sentence in English each day.
Stream movies and shows
Spending time on streaming services doesn't have to be a distraction from studying. Watching TV and movies in English can help you improve your listening skills and expose you to different accents. Turning subtitles on also helps you practise your fast-paced reading skills.
You can also use apps such as Rave and Teleparty, which let you watch remotely with your friends in real-time. While you're there, try practising your writing and speaking skills as you chat about the movie or show with each other in English.
Study tips
If you're a beginner, start by watching with audio in English and subtitles in your native language. As your skills progress, change the subtitles to English so you can listen and read along
Just as with podcasts, write down new vocabulary words while you watch. As the weeks progress, you might notice your skills improve and your vocabulary list get smaller.
Join an online book club
Consider joining an online English-language book club or begin your own with other English learners. Choose a new book or short story each month and carry out your discussions in English.
Study tips
Try reading out loud to practise your pronunciation and speaking skills. At the end of each chapter, think aloud; say what you like about the story or what you think of the characters. This will also give you practise expressing your opinion at your book club meeting.

Want more preparation advice? Read six tips for learning English online.
Featured image
Image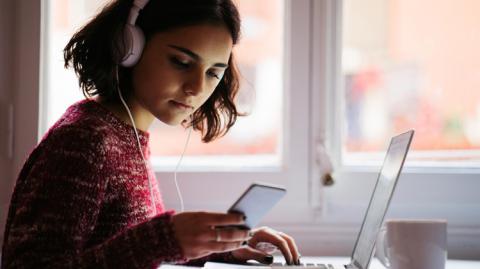 Standfirst
Follow these tips to improve your English language skills, from speaking to listening and writing