Sponsored content: created in partnership with Pearson.
Learning English online is very different from studying in a physical classroom. There is not always a teacher looking over your shoulder, which means you need to motivate yourself. But the good news is it's easy to work on your English from the comfort of your own home.
Read our tips to help you stay motivated, focus on learning and put your skills to good use.
Set SMART goals
When learning a new language, getting started is often the hardest part. Before you begin, we recommend setting some SMART goals. These are goals that are:  
Specific

Measurable

Achievable 

Relevant 

Time-bound

If your goal is to get a high score in an English language exam such as the Pearson Test of English (PTE) Academic, so you can study abroad, you'll need to consider how to achieve this. Start by setting short- and medium-term goals.
A good short-term goal would be to learn 10 words each day. A medium-term goal could be to improve your practice test scores by 5 per cent over the next month.  
Make a study schedule
Creating a study schedule will help you stay organised and make sure you dedicate enough time to the language skills you need to improve.
Refer to your SMART goals when developing a study schedule to ensure each task is realistic and manageable; this will help you meet your objectives. It's also important to identify a time and day when you feel most energised and try to study during this period. 
Want some help creating a study schedule? The PTE Academic preparation app has a handy study planner. It not only helps track your progress, but also gives you daily practice suggestions.
Create a comfortable learning space
Where you study can impact your cognitive performance. Sunlight can lead to better learning outcomes, while temperature and noise can also affect the way you learn. This means it's important to set up your learning station in a relaxed, well-lit environment.
To eliminate distractions, we recommend logging out of your social media accounts or turning off your phone until you're done studying. Make sure you also have all the supplies you need ahead of time – this will help you stay focused and allow you to learn faster.
Try using a time management method such as the Pomodoro Technique, which breaks your studying into manageable chunks. Set a timer for 20 minutes. When the timer goes off, write a tick on a piece of paper and take a five-minute break. Continue to set your timer at 20-minute intervals. When you've written down four ticks, give yourself a 20-minute break. 
This system works by giving you frequent breaks to look forward to, which improves concentration. You can use this time to stretch, have a snack or take a walk – anything that gives your mind a rest.
Use self-study resources
There are lots of English learning materials available online, including worksheets, mock tests, games and grammar exercises. Find an online learning tool that starts at your level and slowly increases in difficulty.
A fun way to study English vocabulary online is with Freerice, a trivia game developed by the United Nations World Food Programme. Each time you answer a vocabulary question correctly, money goes to the programme.
The PTE Academic website has a collection of resources designed to help you improve your English and prepare for the PTE. With the PTE Academic Scored Practice Test, for example, you can answer questions from past exams and receive a score report to identify areas for improvement. Pearson also offers free online courses, four preparation packages and a test preparation app.
Find a study buddy
Studying online can be lonely. That's why we recommend finding a study buddy who can hold you accountable and help you stay motivated.
You can also practise speaking and listening with your buddy. Zoom, FaceTime, Houseparty, WhatsApp, Skype and several other platforms offer high-quality, user-friendly video chat functions that can accommodate groups of learners.
Get creative and practise chatting with others who want to improve their speaking skills. Think of a theme for each session, find games to play, test each other, try fancy dress – whatever will make learning a new language fun.
You can also interact with other students on the PTE Facebook or Instagram pages, where daily posts about learning English can help you get a great score on PTE Academic. 
Practise reading and writing
While you practise speaking and listening skills online with your study buddies, make sure you dedicate some time to developing your reading and writing skills too. If you stumble on a word that you're not sure of, look it up and make a note of the word, its meaning and the translation.
Another useful exercise is translating an article into your native language. This is a great way to learn new words, as well as sentence structure, context and tone while writing. This important skill will help you improve your written English and expand your vocabulary.
Now you've read our top tips for learning English online, it's time to start your English language journey.
Find out more about the Pearson Test of English.
Featured image
Image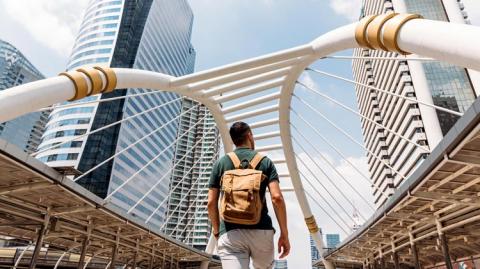 Standfirst
Learning English online requires motivation, focus and practice. Read our six tips to help you learn smarter