Sponsored content: created in partnership with the Royal Central School of Speech and Drama.
Drama has the potential to invite individuals and communities to consider change. For students interested in the transformative power of theatre, the Applied Theatre Master's at the Royal Central School of Speech and Drama (Central) is a strong foundation.
Course leader Selina Busby describes applied theatre as "making theatre with community groups and with those whose stories are heard less often or have no experience of making theatre, and sometimes with those who might be described as socially excluded". This could involve using drama to tackle an issue faced by people in the criminal justice system, for example, or as a way to connect those living on dementia wards with their memories and loved ones.
The master's course combines the theoretical considerations of working with people to tell their stories with real-world experiences in the form of industry placements. 
One of the placements currently available is with the Irondale Centre for Theatre in New York. The centre runs a project called To Protect, Serve and Understand, which brings communities in Brooklyn who have faced conflict situations with the New York Police Department together with serving officers who may have experienced situations of conflict with civilians.
"Both community groups tell the stories of their personal conflict as part of the process. This sharing develops a surprisingly close bond," Busby says. "These are communities that never normally speak to each and distrust each other immensely, but during the project they eat dinner together, play together and create theatre together. Then they perform this work before an invited audience." 
Placements on projects such as this help students learn facilitation skills and understand the impact of theatre on others. Past projects have included drama workshops for girls in a care home in Delhi, India, making children's theatre with incarcerated fathers, working with young people living in shelters, and creating performances with young adults living with Down's syndrome.
Placements have also involved working in a range of youth theatres, prisons, hospitals, schools, galleries, care homes and theatre education departments. "The projects are a bespoke part of the course, designed to help students look at the gaps in their own experience, knowledge and professional expertise so they can build on them," Busby adds. 
On average, the course takes 50 students per year. Many go on to study PhDs in this area; others become drama facilitators, work in settings such as prisons and schools or go on to run applied theatre companies of their own. Students do not need an undergraduate degree in drama to join the course, but Busby admits that some knowledge of theatre or a passion for drama can be helpful.
Central is based in London, meaning that students have access to a range of theatres and settings. Because the course has been running for more than 25 years, partnerships with venues are well established. The faculty boasts several academics whose sole focus is applied theatre, each with their own specialism. "Central has that mix of being a specialist drama institute and university at the same time, so we promote cutting-edge practice with a strong theoretical underpinning," explains Busby. 
Students will meet a diverse range of practitioners to enhance their experiences, but even more valuable is the network of fellow students. "We're looking for individuals with generosity of spirit, both with each other and the communities they work with, who have genuine enthusiasm to work with other people and who are open-minded but critically reflective," Busby says.
Find out more about the Master's in Applied Theatre at the Royal Central School of Speech and Drama.
Featured image
Image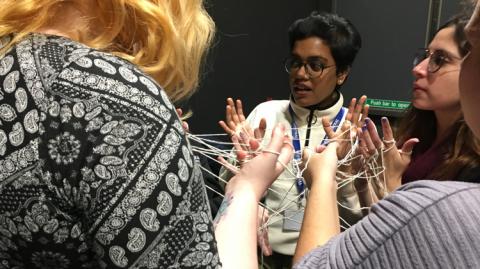 Standfirst
A Master's in Applied Theatre could be the route to a fulfilling career that has a great impact on communities