Sponsored content: created in partnership with the University of Alcalá, part of the World 100 Reputation Network.
Studying abroad is a fantastic way to meet new people, experience different cultures, gain life-changing experiences and study at an internationally renowned university.
The University of Alcalá in Spain is a perfect example of where these opportunities come together. As one of the few universities in the world declared a world heritage site by Unesco, the university provides the chance to study in historic and picturesque surroundings, as well as being a highly ranked university for internationalisation.
The university offers multiple pathways for students to study abroad at undergraduate and postgraduate level. One way is through the International Winter and Summer Schools, which offer intensive, academic programmes through which students can earn credits that can be counted towards their degrees at their home institutions. The programme also allows pre-university students to experience university before entering higher education.
The programme's mission is to provide students with a leading international experience, delivering the highest academic quality and furthering the development of intercultural skills through a stimulating and rewarding experience.
The curriculum of short, intensive programmes offered by the International Winter and Summer Schools uses innovative methods of learning and teaching, including the use of collaborative online international learning. Most of the school's courses include challenge-based learning, in which, transnational and transdisciplinary teams of faculty and students work together to tackle social challenges.
The schools appeal to both international students who want to enhance their academic profile during their time at the University of Alcalá, and local students who want to expand their training through interdisciplinary courses. The catalogue of courses taught at the International School adheres to the university's goal of promoting inclusion, diversity, sustainable development and digitalisation. The schools train global citizens to contribute to social and economic development in the increasingly interconnected societies in which we live.
The school sessions run for 3 to 6 weeks and take place both in summer and winter to cover different international academic timetables.
Another path that provides opportunities for learning overseas is the Benjamin Franklin University Institute for Research in North American Studies. Founded in 1987, the institute aims to conduct research in a variety of fields relating to North America. The Study Abroad in Spain programme grants international undergraduate students the opportunity to study in Spain. Students may take four courses during the fall and spring semesters. The summer programme consists of one or two-month courses, which take place in June and July. Students can choose between studying one or both periods to achieve 6 or 12 credit points towards their degree.
The institute also offers international postgraduate programmes. The Teach and Learn in Spain programme offers native English-speaking students the opportunity to complete a specialised master's degree, either in international education or North America studies, and work as a language assistant in one of Madrid's bilingual schools. This one-year programme offers financial aid to all admitted students.
Find out more about opportunities for international study.
The World 100 Reputation Network is a network of leading universities across the world.
Featured image
Image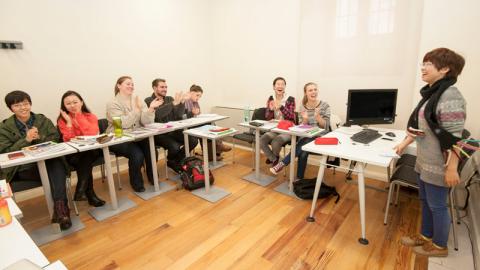 Standfirst
There are many options for international students looking to study in Spain, from summer schools to teaching English