I knew that going back to school in my forties would be difficult. However, I did not realise how complex it would be until my second day in Dublin. As I walked outside, I noticed that I could not tell the difference between the street and the sidewalk (or pavement, as the Irish say).
I have a degenerative retinal condition; my eyesight gets worse in unpredictable lurches. While I was between jobs and living in the suburbs with my parents, being driven around by my dad had shielded me from the extent of the latest decline. Now here I was, standing alone on an unfamiliar street in a new country, clutching a cane I had brought "just in case" but did not know how to use. Perhaps university would be the easy part?
Getting to Dublin
I had originally intended to pursue a career change in 2020, but no one's life went as planned that year, did it? Companies were not hiring, and I noticed that many of the jobs I was applying to wanted someone with a degree in international relations. So I researched master's programmes, and I figured that if I wanted to be truly "international", I should study abroad.
University College Dublin and its School of Politics and International Relations are well ranked and offered the Global Excellence Scholarship, which I applied for and was awarded a full tuition scholarship. With additional funding from the Lighthouse Guild and a generous gift of HumanWare assistive technology from the Chancellor Lions Club of Virginia, I packed my bags and headed to Ireland. 
Getting around
The idea of living in a new country was not intimidating for me. I had achieved my first master's degree in London, and I had also worked in Dubai for six years. What was scary was learning to use a cane.
After my epiphany on the pavement, I called the National Council for the Blind of Ireland (NCBI) and asked for help. Soon, I had my first of many appointments with a wonderful orientation instructor who taught me how to use my cane.
They also helped me learn the routes from my off-campus housing to the bus stop, from the UCD bus stop to my classes, and all of that in reverse. We spent hours rehearsing these paths, and it was exhausting.
Some of my modules were in-person, and thankfully, some were hybrid. It was a relief to have some respite and save time and energy from commuting to campus. I was often much more relaxed and engaged when I was participating from home.
Professors and administrators should consider the invisible costs of in-person attendance when they insist that in-person is always better. Many students need flexibility. With practice, I got better and a little faster navigating my routes, but it did take hours of training and weeks of repetition.
---
How to receive funding as a disadvantaged student
Scholarships for students with disabilities
Studying for a PhD with ADHD – tips and advice from one student
---
Getting the reading
After contacting the NCBI, I contacted the Access and Lifelong Learning (ALL) office at UCD. This office assists students with disabilities. My session with their representative was fairly brief. I explained my condition and the way I read. I sent her documentation of my disability, and she gave me a letter to present to my professors informing them that I was registered with ALL.
She also introduced me to SensusAccess, an online service that converts files into accessible formats, such as e-pub or synthetically voiced audio. When it works, it's great. I personally prefer to use e-pub over PDFs because I can change the layout of the text to fit my narrow field of vision and can then eliminate the need to scroll horizontally. But some PDFs cannot be reformatted, so the tool was not without its frustrations and limitations.
All of my professors were helpful and willing to make additional accommodations if I requested assistance. Despite horror stories from other disabled students, I am grateful that everyone I encountered recognised my right to fully participate. Some professors made slight changes that non-disabled students appreciated as well.
Getting it done
Most students often feel overwhelmed and struggle with time management. This stress increases exponentially for students with disabilities. I spent extra time learning my way around, and it took time to upload files to SensusAccess and check if the reformatting worked.
Navigating websites can also be time-consuming – throughout the process of researching schools and scholarships, I was shocked by the lack of accessibility. There are numerous resources that explain best practices for web accessibility, yet universities are neglecting opportunities to set high standards for accessibility, despite many describing themselves as innovative.
Studying in Dublin has given me a chance to participate, not only in my degree programme, but also to learn about the ways that another country addresses the needs of people with disabilities.
I serve on two NCBI advocacy committees, and I started an initiative to assess the ease of banking in Ireland while visually impaired, inspired by the difficulties I had had when I was setting up a bank account here.
I also joined AHEAD's advisory panel to discuss access issues in higher education. Being a part of these groups has broadened my perspective and reminded me that learning is not limited to a university or campus – the world is our classroom.
Featured image
Image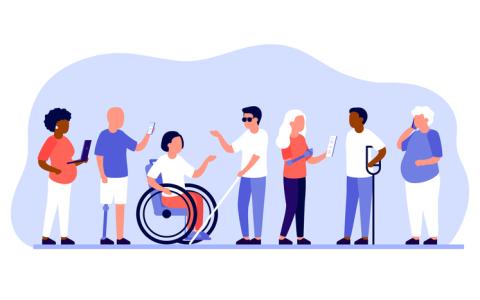 Standfirst
Tabitha Kenlon is writing her thesis on the Marrakesh Treaty to facilitate access to published works for people who are disabled. Here she shares her experience as a visually impaired international student in Ireland.