I've always thought that travelling and starting a new life in a different place would be something that I would enjoy and become accustomed to.
However, relocating to a country where I didn't speak the language, understand the education system or have a support structure proved more challenging than expected. After the outbreak of the war in Syria, I had to leave my home country and begin a new chapter of my life as an undergraduate student in Turkey.
Before coming to Istanbul, my mind was already set on Koç University as the place where I wanted to spend the next four years of my life. I had heard about Koç University because it is ranked among the best universities worldwide and because of its reputation as the best business school in Turkey, which made it the right place for me, having decided to study business administration.
My first year at Koç was not the easiest; the education system was different from what I was used to, and it was hard for me to make friends, having not yet conquered the language. I was lost and confused for a long time but after meeting my best friends and discovering my favourite spots in the city, I began to feel more comfortable, knowing that I now have a support system in this new country.
---
International perspective: an Indian student in Spain
International perspective: an American student in China
International perspective: a Zambian student in Australia
International perspective: a Dutch student in Denmark
International perspective: an Iranian student in Poland
International perspective: a Chinese student in New Zealand
---
Learning the language is essential to feeling like you belong. Although I haven't fully mastered the Turkish language yet, the more I learn the more I feel in tune with society.
I found a Turkish language course in the centre of Istanbul, which allowed me to wander around the city whenever I arrived early or wanted to take a nocturnal walk after class was over. The city has such an energetic atmosphere that you can leave your house as early or as late as you like and still find the streets filled with chatter, Turkish music, the aromas of spices, street food or the sea.
Koç University embodies the same spirit as its city with its diversity and strong sense of community.
Academically, our subject options are very flexible and we are always encouraged to ask our teachers and classmates for help if we need it.
Our lessons take several forms, including lectures, in-class exercises, presentations, group work and guest speakers. There are also dedicated times when we can go to our professor's office for extra assistance.
The social side of campus life includes many opportunities to get involved in extracurricular activities such as volunteering, debating or music societies.
During my junior year I had the pleasure of being the president of the International Student Community Club. The club is dedicated to bringing Turkish, international and exchange students together, helping them integrate and enrich their experiences by organising different types of events. It was an amazing experience that taught me so much about leadership and helped develop my skills in event planning, teamwork and collaboration. 
I still have so much more to experience in this wonderful city and university but all I can say for now is that being an international student might be challenging at first, but it's definitely worth it. You'll build amazing friendships and memories that will last forever.
Read more: International perspective: a Belarusian student in Lithuania
Featured image
Image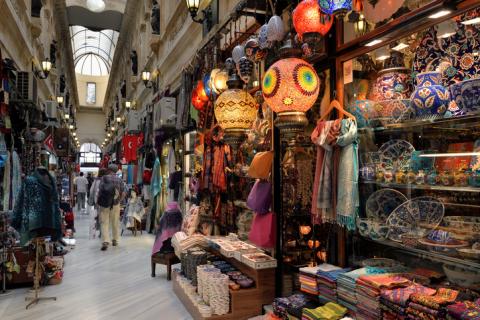 Standfirst
Koç University is just as vibrant and diverse as the city of Istanbul, writes blogger Rawia Shaheen