My student journey took a different course from those of my peers. Having completed my schooling in Sri Lanka, I decided that I wasn't ready for university yet and wanted to learn alternatively – to get a taste of the "real world" stuff.
I entered the workforce as an 18-year-old and five years later built my professional work experience in the Sri Lankan tourism industry. This was through hands-on learning, and it significantly contributed to the development of skills and character through my work in client interface.
I was ready for a new challenge, and I had a clearer vision of what I wanted to study and the ways it could support my long-term ambition – to run my own social enterprise. In the short term, I wanted to travel, broaden my cultural horizons and explore work opportunities internationally.
I felt that New Zealand would be a great place to experience all of the things I wanted to.
From the country's fascinating Māori culture, its natural beauty, the reputed safety and strengthening of social capital, I was convinced that it was the place for new beginnings.
The University of Canterbury's bachelor of commerce degree offered the versatility in study I was looking for. The degree runs the unique major of strategy and entrepreneurship, which seemed to align with my ambitions. The flexible degree structure also allowed me to take on a second major, economics, at no additional tuition fees – a valuable addition to my degree.
Although I was worried about transitioning back to the classroom, the University of Canterbury's contemporary learning environment helped ease me in. The use of online learning tools, team projects and the freedom of class discussions exposed new methods of understanding. I particularly enjoyed the industry engagement offered in my courses – a particularly memorable opportunity was forming a project proposal in consultation with Christchurch-based social enterprise Trade Aid.
I was also able to work in a range of part-time jobs that helped me build different skillsets, cover living costs and, most importantly, make Kiwi friends.
---
International perspective: a Chinese student in New Zealand
The cost of studying at a university in New Zealand
University life in: New Zealand
Scholarships for international students in Australia and New Zealand
---
Getting involved outside the classroom supported my integration into university life. The university offers more than 150 student-run clubs, and I was lucky to be appointed the marketing manager for the university's Global Society Club, where we networked with international and domestic students to nurture multicultural understanding on campus. This was one of my most fulfilling student experiences because we contributed to real community engagement.
Through extracurricular involvement, I gained the opportunity to represent the university as a student ambassador in my home country. I organised seminars with schools in Sri Lanka to share my student journey, and to grow interest in what the New Zealand study experience can offer.
I was also awarded the Eamon Molloy Memorial Scholarship in my final year. This scholarship definitely eased the financial burden of study, and motivated me to complete my degree on a positive note.
I completed my bachelor of commerce degree as a member of the Golden Key International Honour Society, the world's largest academic community for students. This membership extended me further opportunities of travel grants, global networking and access to Asia-Pacific and international conferences.
I now work for the university's study-abroad and exchange team, and continue to engage with the wider student community. As a part of my professional development, I've begun my part-time master's degree study in strategic communication.
I have been inspired by the innovative business movement here in the city of Christchurch. It's been amazing to be a part of a revitalising city, with local start-ups, and a buzzing arts scene and food culture. Christchurch is also very diverse, in its people and landscapes – a Sunday favourite is driving up to the Port Hills and down to the beach, crossing paths with people from all across the globe.
Coming from the beautiful island of Sri Lanka, wanderlust is second nature. Exploring New Zealand has been on my bucket list, and I now feel fortunate that the South Island is my backyard. A hiking expedition or kayaking trip is never too far away.
There's so much to learn from travel – the high regard for environmental sustainability in New Zealand is admirable and is a value that I hope to further cultivate in Sri Lanka. Although I miss the year-round tropical weather, experiencing four seasons has become pretty exciting, too.
My international study experience gave me the opportunity to balance complementary academic and professional learnings from the get-go.
It's helped me to realise my personal strengths, resilience and adaptability, both in and out of the classroom. The learning never stops when you move out of your comfort zone, and for that I am grateful.
Read more: Best universities in New Zealand
Featured image
Image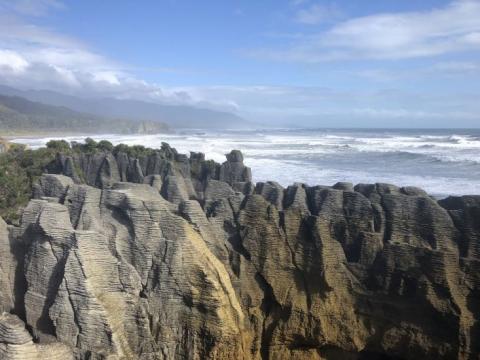 Standfirst
Sri Lankan student Sahar Jamal decided to study at the University of Canterbury in New Zealand to take advantage of the flexibility in learning, the professional opportunities and the beautiful scenery