Friends and family from Poland often ask me how I was able to move to the UK to study psychology with clinical psychology at the University of Lincoln.
In fact, moving here was one of the best decisions I ever made, as this experience has turned me into a more independent, open-minded and mature person who believes that any goal in life can be achieved with a little effort. 
I chose to study in the UK for two simple reasons. Firstly, I thought that this opportunity to move abroad would be a good challenge that could help me prove to myself that I could get out of my comfort zone. 
Secondly, English was always my favourite subject in school and I always enjoyed studying the language as well as the culture. 
When I decided to do my UK university application two years ago I felt excited and motivated, but as soon as I sent my application off I felt some self-doubt, even though I knew it was worth trying to apply.
When the results of my final exams from my high school in Wroclaw, Poland came at the beginning of that summer I could not believe that I had been accepted by my first choice university – University of Lincoln. I couldn't have been more thrilled and terrified.
My family and friends were also shocked as they realised that I really was going to move to the UK.
---
International perspective: an Iranian student in Poland
---
First, I had to sort out my student accommodation for my first year and book flights to the UK. During that summer, I tried to improve my English as much as possible and prepare for the big change that was coming.
When the time came to move to the UK, I felt so excited. I had to pack up all my stuff into two massive suitcases and a handbag, and say goodbye to my family and friends. When I arrived at East Midlands airport, I had to take a bus and then a train to Lincoln to finally collect the key to a flat I was sharing with people I had never seen or spoken to before.
The beginning of the first year was hard. Fortunately, during the first week of a term I met three amazing girls, one from Finland and two from the UK, who have since become my good friends. Luckily, all of us were studying psychology so we were able to go to lectures together.
Although starting university is different for everyone, we all had one thing in common – that we were in a new situation and did not know what to expect. Especially, for someone like me who moved from another country to study in the UK. The culture, the slang and even the weather was different from back home.
The city of Lincoln turned out to be a very charming, yet rainy place. As time passed and I got busy with university work, I got used to these differences and started to enjoy them.
I am grateful that I made the decision to study in the UK because this change of environment showed me that even though there are some differences between English and Polish teenagers, at university we are all the same. We all have similar goals – we want to do well at university while still having fun.
Moving away from Poland doesn't mean I don't speak to my friends and family. Whenever I miss home, I video call them and I go back to Poland every Christmas and summer. In addition, the journey from Lincoln to Poland takes only an hour and a half, so people can visit me throughout the year whenever they want.
I'm really pleased I made the decision to come and study in the UK. I thought it would be amazing to study something I am really passionate about in a place where I can meet people from all around the world, challenge myself to study in a different language, and feel happy and proud about what I did and what I can do in the future.
Read more: The 10 most beautiful universities in Europe
Featured image
Image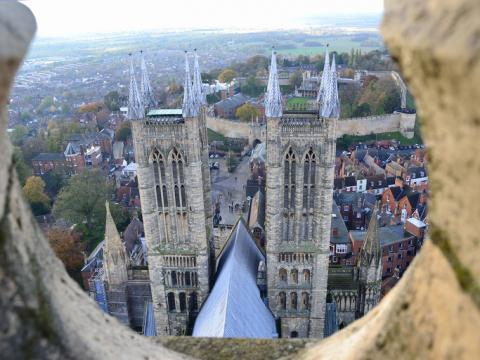 Standfirst
Despite the nerves about moving to study in a different country, Polish student Weronika Denes believes that studying in the UK was worth it