I grew up in a small country tucked away in Southeast Asia. Malaysia presented me with a set of unique opportunities and perspectives that I would not have experienced anywhere else.
Perhaps because of the differences in people, cultures, and traditions that were so prevalent in the country, but celebrated by everybody, I am curious about other people and places. I grew up with an ambition to become a global citizen with the ability to move around and find community in all corners of the world. 
I went on to pursue my undergraduate degree and immerse myself in the sunset dreams of San Diego, California. After four years I left with a desire to study further. I eventually landed at Imperial College Business School, London, to do an MSc in international management.
Leaving the comfort of my friends, mentors and colleagues of four years wasn't easy, but it was a step towards pursuing my goal of becoming globalised. I thought to myself: what better place to do this than London, a city dense with people of different cultural backgrounds, speaking different languages, and practising different traditions? 
To say that I assimilated easily into the city would be dishonest and discounts the countless nights I spent wondering if I had made the right choice hopping across the Atlantic. However, upon reflection it was the right choice for me. 
On being accepted into the programme, I received a warm welcome and immense support from the admissions team with resources around student leadership positions, housing and scholarships, which I was lucky to be awarded. The scholarship definitely helped with the financial burdens of moving to another country and settling into an expensive city like London. It gave me access to the plethora of experiences London had to offer. 
---
International perspective: a Polish student in the UK
Student life in London: culture and cuisine
'Studying in the UK has always been my dream'
Guide to visas and funding to study in the UK
---
London is a unique opportunity that everyone should embrace if given the choice. In contrast to the car rides on five-lane freeways, I got to experience the city through the thrill of peak hour tube rides, sitting on the upper deck of buses and seeing the city sweep by, and casual Sunday walks with friends after indulging in heavy lunches.
London is packed with cultural experiences and global cuisine, and the diversity allowed me a taste of different cultures that I'd never experienced before.
I chose the MSc international management programme because of its aim to build future global leaders. With a cohort of 43 students represented by more than 23 nationalities, I think the structure of the programme along with the profiles of students admitted into the programme did this justice.
Because of the students' diverse backgrounds, group projects mimicked working in real-life global teams as we found ourselves having to overcome cultural hurdles and language barriers. Professors also included case studies from different companies around the world to ensure our exposure to global businesses. 
My highlight of the programme was the week we were assigned to carry out a consulting project in Bangalore, India or São Paulo, Brazil as a part of the leadership in action module. My team and I were assigned to a non-profit animal rescue organisation in São Paulo and we had to propose innovative marketing campaigns to encourage donations to the cause.
While there, we learned that unlike in the developed world where donations to causes were common, companies had to overcome different financial and political hurdles. This experience inched me closer to my aim of global citizenship because it gave me the opportunity to travel to South America for the first time, interact with locals and experience Brazilian culture in ways I would not have been able to as an ordinary tourist.
Overall, I am grateful for the opportunity to have completed my master's degree at Imperial College Business School. Despite my experience being cut short by the global pandemic, the school has been helpful in supporting students through the transition to online classes. I am excited to reconnect with my global network of friends that I gained from the programme, hopefully in the near future.
Read more: Coronavirus: will I be able to complete my master's and study in the UK?
Featured image
Image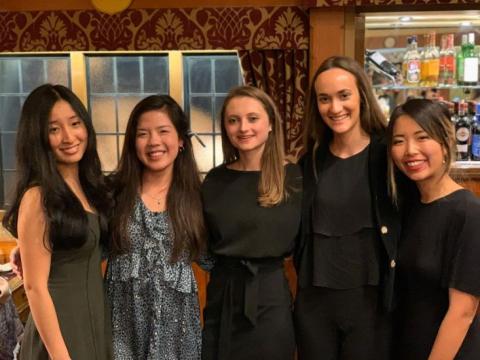 Standfirst
Malaysian student Jodie Koh chose to study in London for the diversity, high-quality education and the opportunity to become a global citizen