I came to study in Paris as part of an exchange programme for the fourth year of my BSc in chemistry. It was a partnership between University of British Columbia.
Visiting France had been my dream for many years. I was enrolled in a school French immersion programme from an early age and grew up speaking French and learning about the Francophone culture. 
The application process was lengthy and I spent most of my summer going back and forth with our contact at Sorbonne, preparing my application package, creating a learning agreement of courses that would be accepted as transfer credit at UBC, applying for accommodation at the Cité Internationale Universitaire de Paris (CIUP) and sending my passport to the French embassy to receive my visa.
On 31 August 2016, I took off to live on my own for the first time, in a new country, experiencing a swell of emotions. Ten hours later, in a time zone nine hours ahead of my own and in a befuddled, jet-lagged state, I was in Paris.
---
The cost of studying at a university in France
---
For the first few months, the number of new experiences was astounding. Even though France and Canada are both Western countries, there are many differences between the two. Some more pertinent examples include: the majority of stores close on Sundays; the paperwork and administrative system; the use of the AZERTY keyboard; an overall higher expectation and pride for food and wine, as well as many other subtleties.
It was fairly easy to meet the other international students in my classes – our accents gave us away. I also met people during social events at my residence at the Cité U and through various events put on by Erasmus groups. One of my favourite memories from that year is a weekend road trip to Normandie with three other girls, from Spain, Brazil and Poland. Our Airbnb host in Honfleur was astonished at what a multicultural group we were.
My timetable consisted of seven courses, five days a week in the first semester. The long hours (sometimes from 8am to 8pm) were hard, as I was used to shorter lectures and more time for self-study. Another challenge was taking my courses in French. While I had grown up in a bilingual school system, this was different in that it was fast and native French, and the subject material was master's-level chemistry. However, the complete immersion resulted in a fast progression of my French fluency.
At first I thought that it would be hard to focus on my studies while navigating a new environment. However, I found that living in a new country, with all the surprises and discoveries that came with it, was stimulating mentally, and this flowed over into my studies as well.
The academic year concluded with an internship. The lab I joined specialised in using chemical analysis for cultural heritage research and I worked on the characterisation of jade samples from Mesoamerica (modern-day Central America and Mexico). This was the first time that I'd heard of this application of chemistry and, as I've always been passionate about history and art, I was thrilled to discover it.
It was the revelation of this field of research, along with my appreciation for French culture, that led me to my decision to stay for a second year at Sorbonne Université to finish my master's.
Fast forward to the present: I now consider myself to be fluent in French and feel that I've adopted the French way of life in many ways. I've travelled to 17 new countries and, as of four months ago, I've taken on a PhD research contract in the field of analytical chemistry applied to cultural heritage conservation and preservation.
My life has changed drastically in the past two and a half years thanks to the opportunities that came out of my decision to study abroad.
Read more: Best universities in France 
Featured image
Image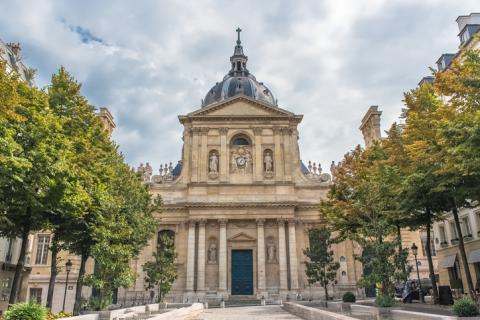 Standfirst
UBC student Julie Gordon had always wanted to study in Paris and an exchange programme gave her the perfect opportunity to stay