I wasn't entirely sure I'd be glad to be back in South Korea this spring, my third, which has – as always – brought with it fleeting weeks of candyfloss clouds in both the sky and the cherry tree branches. The pale pinkish-white flowers blossoming all over my campus at KAIST in Daejeon lend a romantic air to the university for a brief season every year.
Although usually an idyllic period, this time the tranquility is exceptional; the absence of the visitors who normally crowd the picnic and photo spots has left an odd stillness. 
Over the past few months, the world's seemingly steadfast systems of education have been thrown into disarray. The risk of the coronavirus spread has pushed classrooms online and KAIST is no exception, announcing the indefinite implementation of an "online semester" on 12 March.
This was just one day after my return to South Korea, after a period of indecision over whether or not to go back and complete my penultimate year. At the time, South Korea was near the top of the coronavirus case charts, and there were fewer than 500 confirmed patients in the UK. My parents anxiously waved me off at Heathrow airport, but now the situation has reversed and they are relieved (as am I) that I'm here.
---
How students in Africa are handling the coronavirus outbreak
Covid-19 memoir: how I returned home as a Chinese student studying overseas
How student athletes in Jamaica are coping with the coronavirus outbreak
International perspective: a Chinese student in Canada during the coronavirus outbreak
---
KAIST has enacted sweeping government-led preventative measures against coronavirus. All Korean undergraduate students have been sent home, except for those from the special care zones of Daegu and Cheongdo where the worst outbreaks were seen.
International students have been allowed to stay in dormitories, but only those who returned before 25 March. All students entering from abroad are now subject to a two-week quarantine period in separated facilities, and those already here are being monitored – thermal cameras have been placed in the busiest buildings, including the library and cafeterias.
Sports facilities are closed, and dormitories are disinfected every week with a knock on the door at 9am sharp telling you to vacate your room while the antiviral spray disperses.
Visitors to campus have been banned, and everyone is wearing a mask. I do too, but wonder whether they are now also urgently needed by my family at home in England. However, new export restrictions stop any masks leaving Korea, and international postal delivery of all kinds has been affected by a drop in passenger flights.
Despite all this, though, on the surface, everyday life in Korea doesn't seem to be all that different to normal. People wearing masks are a regular sight in spring anyway, as fine dust pollution is often worst during this season.
Most restaurants and shops are open – albeit with hand sanitiser proffered upon entry – and there are no shortages in supermarkets. For the most part, it feels as though people are continuing to live their lives, while simultaneously being conscientious about the risk of infection. This has been enabled by the Korean government's response to the coronavirus.
I receive an "Emergency Alert" every day with an update on the new cases in my city (there have been none for the past week), and every confirmed case has apparently been accompanied by extensive tracking and tracing of all possible contacts. From what I hear, the same cannot be said of the UK.
Undertaking my undergraduate degree in South Korea was a wild-card option for me, and despite the difficulties that have naturally accompanied the adjustment to a different education system, I have never once regretted the choice.
The changes brought on by coronavirus were an unexpected turn of events, but not so great a disruption as that facing many students in the UK. I am thankful that I can experience this period of global crisis exactly where I am, among the peaceful and unaffected blossom.
Read more: Coronavirus: the resilience of students in Hong Kong
Featured image
Image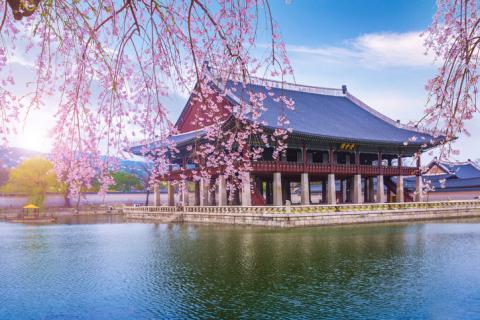 Standfirst
British student Ada Carpenter was unsure whether to return to South Korea for her penultimate year abroad, but now feels content with the choice she made