With a growing number of funded programmes and the promise of a CV boost, students are increasingly choosing China as their first choice study abroad destination. 
In the summer of 2019, I participated in a China-UK collaborative initiative – the UK Department of Education-funded Study China Programme, a three-week long language and cultural immersion course. Administered by the University of Manchester, each year the programme sends around 300 students to China with roughly 100 students placed in each of the three Chinese partner universities.
The cultural immersion began the moment I stepped off of the plane at Shanghai Pudong Airport. The large crowds, sweltering heat and the noise were overwhelming. 
The first few days at my assigned university, East China Normal University, were especially exciting but also hectic. Not only was it my first time in China, but I also didn't know anyone else on the programme and so was meeting dozens of people in a short space of time.
I soon discovered that everyone was open, friendly and inclusive. There was a Study China Shanghai WeChat group where participants sent out invites for outings or meals.
Mornings were filled with intensive Mandarin classes according to one's level, and most afternoons we were free to explore the city or participate in lectures and activities to introduce us to Chinese culture.
Our university hosts treated us like special guests. We were put up in the on-campus hotel accommodation, where our rooms were cleaned every day. Our classes were in a refurbished building for international students and there was a group of earnest Chinese student volunteers that were eager to support us around the clock.
It was clear that as guests from the UK we held a privileged status and our Chinese hosts were extremely grateful for the opportunity to educate, entertain and befriend us. The generosity and warmth was present across all aspects of the programme and perhaps best demonstrated by the participating local families that welcomed us into their homes to share a meal of dumplings that we prepared together.
---
Best universities in China 
University life in: China
International perspective: an American student in China
Why more students are choosing to study in China
---
Money exchanged from British pounds went a long way, making eating out and sightseeing highly accessible to us as students. You can eat out for 20-50 RMB (between £2 and £5), while the university cafeteria sold breakfast breads for 1 RMB (£0.11). Riding the metro to most places didn't cost more than 4 RMB (£0.45). I even took the high-speed train two hours to Nanjing for only 130 RMB (£14.72). There, a single hotel room with a double bed and extra living room cost me just 300 RMB (£34).
Food became a major preoccupation. Outside of Chinese cuisine and the familiar American fast-food chains, there were very few other options. I don't eat pork or shellfish, which instantly took away about 60 per cent of menu items. Another 20 per cent was then taken away by parts of an animal that most Brits would try only once for an experience to tell others about.
Vegetarians would usually be left with a choice of egg-fried rice or a large plate of a single type of vegetable. For those with allergies, it can be difficult as food preparation rarely made allowances for such requirements. Although I made an effort to embrace the local food and avoid the golden arches, I still managed to eat more fast food in three weeks than I have done in the past three years.
The Chinese volunteer students put extra effort into introducing us to the pleasures of Chinese cuisine and shared the importance of communal dining for socialising. One Chinese student mentioned how shocked they were at the diversity of our eating habits and found some of us a little picky.
Through such refreshingly frank exchanges my perceptions were challenged. I learned to appreciate the cultural differences and grew to love totally new flavours and fragrances. By the end of the programme you could regularly find me at a local dumpling restaurant or a nearby hot pot restaurant for dinner followed by a bubble tea to wash it down. 
Three weeks of language learning certainly improved my Mandarin proficiency but it was outside of the classroom that I gained the most, as my cultural norms and values were challenged. Alongside the hospitality and privileges we received as international guests, we were also constantly reminded of our foreignness. On campus, our hosts delighted in filming us performing Chinese nursery rhymes or playing icebreaker games that tested our chopstick handling. 
Black people and especially black women gain almost celebrity status in China. I can recall occasions when parents would drag their kids to stand in front of us for a photo opportunity. But I embraced the experience and played along as their gaze was benign and out of genuine curiosity.
Although I became more conscious of my skin colour, ironically I didn't feel negatively othered. Contrast this with my shopping trip to a Shanghai market with my black friend: two European tourists entered the shop we were in and, assuming we were workers, asked if we could serve them. Though unconscious, this gaze is potentially harmful. 
For BME students the prospect of studying abroad can raise a whole set of concerns. One student told me that before applying they were worried about how they would be received as a black person in China. Another mentioned that even though they were eager to visit China they hesitated when applying to the programme as they were worried about the potential of being the only person of colour.
That's why studying abroad, especially in radically different cultural contexts such as China, is so important. It can expand your imagination and change your perceptions. 
All conversion prices were correct at the time of publication  
Read more: Nine tips for students studying abroad for the first time 
Featured image
Image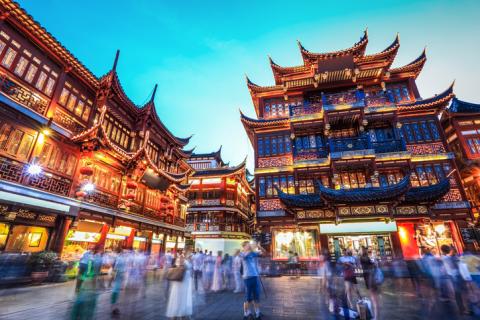 Standfirst
UK student Warren Stanislaus writes about his experiences studying abroad in China as a BME student