Moving to a different country, leaving your friends, family and everything you know, can be daunting and scary. There were times when I had second thoughts and questioned if moving abroad was right for me. Many do not realise how difficult it is to move away and live as an international student in the hopes of a better life, career and future.   
But now that I'm halfway through my studies, I can happily say it was the best choice I ever made. It made me independent and confident and I grew as a person. So, if you are considering this path, I couldn't recommend it enough.  
My name is Aditi, I'm 20 years old and I come from Melbourne, Australia. I'm originally from Mumbai, India. However because of my parents' work, I emigrated to the UK when I was four years old. I lived there for 10 years and went to primary and middle school there.
Then I moved to Australia and finished high school there. I completed my high school degree (VCE) and received my ATAR (a ranking of Year 12 results that measures your overall academic achievement compared with all other final-year students in Australia which you need to enter undergraduate courses in Australia and overseas). I knew I wanted to study medicine once my secondary education was complete.
In Australia, I had the option of doing direct entry medicine (DEM) or graduate entry medicine (GEM). Most Australians choose to do GEM because DEM can be highly competitive, with the spaces incredibly limited. Therefore I wanted to explore my options abroad.   
After researching universities in the UK and Ireland I came across the RCSI and UCD Malaysia Campus (RUMC). I particularly liked it because of its great travel opportunities. I applied directly through RUMC's website, choosing the undergraduate direct entry medical programme (five years).
I didn't need to do an additional foundation year (in Malaysia) because I met the entry requirements for the five-year programme and so I went directly to Dublin to start year one. I spent two and a half years of my medical journey in Dublin completing the theoretical part of my studies. I then progressed to Penang, Malaysia to start my clinical years for the rest of my degree. 
When enrolling at RUMC students can choose to study at one of two universities in Dublin –University College Dublin (UCD) or the Royal College of Surgeons in Ireland (RCSI). I chose RCSI because it's a private institution with an excellent education/medical curriculum and provides tailored support, care and opportunities for research and career development.
I was able to do a research project with my university during my second year, then proceeded to present my poster and abstract at several conferences and research fairs.
I then chose to then do my clinical years in Malaysia to gain experience in a different healthcare system in a different country, allowing me to adapt, learn and grow.   
---
What can you do with a medical degree?
Best universities for medicine
---
The process of going to Ireland wasn't too difficult for me because I had a British passport. I wasn't required to apply for a visa, however many international students must apply for an IRP (residence permit) and visa. 
It was hard in the beginning. I still remember my first day in Ireland; I felt unprepared, mentally exhausted and nervous. Eventually, weeks passed and the new place started to feel like home. Since then, I haven't looked back. 
Another struggle was Dublin's high cost of living. I tried to find ways to reduce my expenses, such as limiting takeaways or dining out to once a week and prepping meals instead so I didn't have to cook every day. I also kept a spending diary on my phone so I could track where every cent as going. This helped me keep control of my finances and save.
One of the biggest advantages of studying in Ireland was the opportunity to travel to nearby countries. Because it is so close to mainland Europe and the flights are very affordable, I got to travel to several countries during my studies.
The other bonus is the people you meet along the way. Everyone comes from a different background, belief and culture. However, you all come together in similar situations and deal with difficulties together.
I hope this blog helps any prospective students wanting to study abroad and I wish all international students well in the future. 
Featured image
Image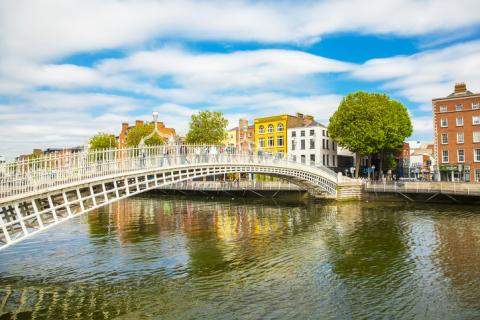 Standfirst
If you are considering studying medicine as an international student, Aditi Gupta's experience as an Australian international student in Ireland may interest you 
Created date
2023-03-01T09:55:44+0000