My first experience of Tsinghua University was during my freshman year of high school, when my classmates and I travelled to Beijing. We went to the usual spots, including the Forbidden City, the Great Wall, Tiananmen and the Summer Palace.
After finishing the tour of the latter, I noticed a group of people crowding around an ancient Chinese gate, which I later learned was the west entrance of one of China's most prestigious universities, Tsinghua.
I wandered around the campus by myself, taken aback by the beauty of the gardens and lakes surrounding the school, the unique style of Gongzi Ting (an H-shaped house) and the imposing main building. The school seemed to have a culture of its own preserving the past, evident by the ancient Qing dynasty architecture, but also firmly embracing the future.
Strolling leisurely along the pavement watching students rushing to class, I could almost see myself here. But alas, I was planning on going to an American college.
---
Read more about China
University life in: China
The cost of studying at a university in China
Why more students are choosing to study in China
Five reasons why you should study in China
---
When I learned that Tsinghua was opening its undergraduate programme to international students in my senior year, I considered it as a serious option. I had studied the Chinese language for several years and was planning to participate in an exchange programme during my junior year of college, but knew that this route would be neither as challenging or rewarding as coming to China to do my bachelor's.
I started researching Tsinghua, singling out the School of Economics and Management (SEM) for my intended major because of my academic interests and the school's global vision and standing. I then decided that it was the right college for me. 
As some of the brightest minds in China, much is expected of Tsinghua students. At the same time, Tsinghua students demand a lot out of their college experience. For this reason, both the teachers and students uphold a high standard in all areas of campus life, from academics to events to sports clubs.
Studying at Tsinghua is challenging. I have earned more credits this past year than I would have achieved in an American college.
I also believe that my learning retention has improved since studying at Tsinghua. I think this is down to two reasons, the first being the amount of study required and the speed at which material is covered. The second is because a lot of what I am learning is relevant to my career path and is helping to cultivate my interests.
From my observation, competition at Tsinghua is fierce, but it does not breed the same cut-throat atmosphere as at American universities. Students are receptive to exchanging ideas and offering help.
Some of my highlights at Tsinghua have been organising events for the US Students Association, working as a teaching assistant for Muhtar Kent (a Turkish-American business associate) at the SEM annual advisory board meeting, and being a mentor at a summer school for American and Chinese high school students on campus.
I also met two of my heroes at Tsinghua, Niall Ferguson and Erik Maskin, when they lectured and hosted small discussion groups on campus. When I am not in the classroom, I am usually playing basketball with classmates or representing the SEM soccer team.
My experience at Tsinghua has been a formative part of my life, and I cannot wait to see what the next three years hold for me.
Read more: Best universities in China
Featured image
Image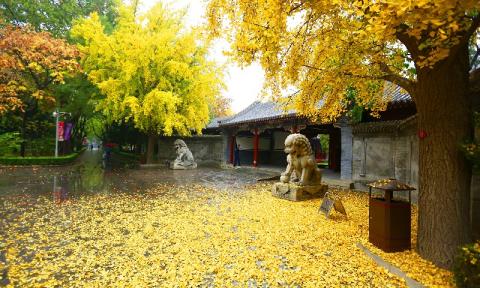 Standfirst
American student Roan Guinan first encountered Tsinghua University on a school trip, and then later realised it was the right university for him to go to