High school students in Albania often dream of studying at universities around the world. We imagine American colleges, British lectures, and student life in other European countries. Many of us don't make it that far – often because we simply can't afford it – but I was lucky enough to be offered a place on the economics master's course at the University of Cologne.
My first impression was how great the city is for students. It's known for art and culture, as well as a stunning cathedral, and it is affordable on a tight budget. I'm never bored because there's always something to do.
With just over 1 million inhabitants, Cologne is the fourth-largest city in Germany, but I never feel lost. Some districts are vibrant, cosmopolitan and flashy. Others are industrial and often host trade fairs. There's always somewhere to experience diverse music, culture, sport, nightlife and media.
The campus itself is organised in a way that offers a perfect environment for studies but also for free time. It's located, in what I think is one of the best parts of the city, near parks to relax in after lectures. There are also libraries dotted around campus equipped with the latest literature. And there are several canteens that offer healthy food at affordable prices.
---
International perspective: a Zambian student in Australia
---
I came to Cologne after studying my bachelor's in Albania, and my postgraduate experience has been so different from my undergraduate course. My master's has been well structured, with opportunities to specialise by choosing certain electives but, honestly, studying in Germany is challenging!
The standards are high and I have to work very hard. There's also healthy competition with my classmates, yet it's actually an environment that pushes us to focus and succeed.
And, for the first time, I am not afraid to ask questions. As a student in Albania, we were often scared to query professors in case we were seen as stupid. We think that it's normal to just sit in lectures and listen for the whole time. It is not like that here. Inspiring lecturers encourage us to speak up and interact with them during classes.
I feel like I'm growing personally too. Even getting used to German cuisine, although it took a while to get used to eating potatoes with every meal! We don't really do that at home.
I'm always trying to encourage others to study abroad. From my observation, the professional experience – living and studying in an industrial hub – as well as the life experience is invaluable. When I graduate with my master's degree, I plan to continue my journey in Germany and do a PhD in economics.
Read more: Best universities in Germany
Featured image
Image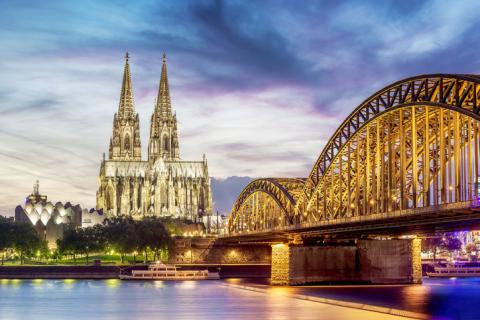 Standfirst
Albanian student Taulant Yzellari always planned to study further abroad, but the University of Cologne was the most appealing to him