Sponsored content: created in partnership with the Toronto School of Management.
Studying abroad can be an experience that is rich in opportunities for gaining new skills. But it also comes with plenty of unknowns, from navigating visa requirements to finding accommodation in an unfamiliar city.
The Toronto School of Management (TSoM) in Ontario, Canada, takes a unique approach to student recruitment, with these common worries in mind.
"What makes TSoM a highly regarded institution is the combined dedication of its faculty and the student and career services teams who deliver a hands-on, step-by-step approach to the development of our students," explains Aanchal Gupta, student recruitment manager at TSoM. "Students are supported from the moment they submit an online enquiry about the college, all the way up to applying for their visa and beyond."
Once an international student herself, Gupta understands the challenges international students sometimes face. "Moving to a foreign country can be anxiety-inducing – you have a lot of different questions. We do our best to accommodate all those questions and student needs for a smooth transition."
Toronto is an increasingly popular location for business and management students, as well as employers: the minimum wage is higher than in other Canadian provinces, Gupta explains, and there is a growing start-up scene.
The main college building is in downtown Toronto, near the city's entertainment and financial districts, making TSoM an attractive hub for students wanting to make the most of work opportunities and social activities.
Course offerings cover business administration and business management, hospitality, and specialist IT courses, including cybersecurity and data analytics. TSoM is also the only Canadian outlet to be awarded Gold Learning Partner status, earning the school recognition as an Association of Chartered Certified Accountants learning provider. An IT background or qualification is not required to enrol, but each student must pass an aptitude test upon application to the college.
Most of the school's undergraduate programs are "co-op," meaning students are required to undertake internships with local businesses as part of their studies. According to Gupta, the programmes are designed alongside the college's industry partners "to ensure that our students are meeting the demands of today's ever-changing job market". "It means they will get to test their knowledge, whatever they study in their class, with real employers," she adds.
A core value at TSoM is to promote confidence and agency in students, and this extends to job preparation and interview practice at the point of graduation. "We strive to develop and inspire the next generation of leaders," Gupta says. And the opportunities to work and study in Canada are growing. "From our historic visa pool data, we can see that immigration into Canada from countries including India is rising, particularly for people with an IT or cybersecurity background."
TSoM already has students from at least 116 countries, she adds, but "we continue to focus on encouraging diversity and getting more women into technology professions because these are the skills that are in demand".
TSoM plans to expand by opening a new campus, which will enable the college to add more programmes to its catalogue of courses and build connections with other universities across Canada to enhance job pathways for graduates. "It's a really exciting time to be a part of TSoM," Gupta concludes.
.
Featured image
Image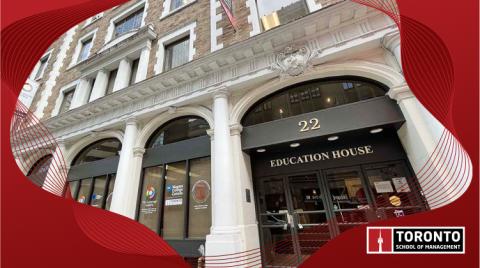 Standfirst
The Toronto School of Management takes a holistic approach in its course offerings, assisting students from application to the job interview