If students and institutions are going to have confidence in a high-stakes test, they need to be happy that it's secure and gives an accurate indication of the abilities of the candidate.
The Duolingo English Test (DET) costs less and takes less time than many other standardised tests, while still holding test-takers to high standards when providing certification.
"These tests have the opportunity to change someone's life, whether that's getting into a programme at an English-speaking university or a job where a certain level of English is required," says Rose Hastings Keith, senior operations manager at Duolingo. 
For this reason, setting up an environment that's conducive to taking the online test is crucial. "Institutions and organisations that use the DET results have to feel confident the test-taker is not receiving help and that they are who they say they are," Hastings Keith says.
This means test-takers should ensure they have a quiet space where they will be undisturbed for at least an hour (although the test can take longer, so 90 minutes is advisable), a strong internet connection and enough light so their face is clearly visible. Putting mobile phones or other electronic devices in another room is also advisable because using any external device is against test rules.
One mistake to avoid is looking away from the screen too often, as this can be a signal to proctoring teams that someone might be consulting an external resource for answers. "We're not in the room with them so are not always able to confirm this, but if there is any suspicion that someone is looking at answers, the test will not be certified," Hastings Keith says.
If there are genuine technical issues such as a break in internet connection, the candidate can take the test again, free of charge. A thorough onboarding process at the start of the test helps iron out many of these issues, so if image quality is not good enough the test-taker can change lighting or screen angle to ensure it's up to standard.
Taking a free practice test before the official one will help test-takers feel confident they are meeting the requirements for certification. "Treat it as you would the actual test, get a good night's sleep, check if your environment is calm. The more you get into the mindset and practice going through the motions, the better," advises Hastings Keith.
It may feel as though the security requirements are onerous, but the DET aims to offer as much clarity as possible and regularly uses feedback from test-takers to improve the experience.
"It's about how we meet institutions' demands for secure, reliable test results and balance that with the frictions of security," says Basim Baig, senior engineering manager at Duolingo. "We want test-takers to understand why our security measures are in place and to know that we're trying to make the experience as smooth as possible for them. It's an ongoing process."
With the right preparation and mindset, there's no reason why candidates should not have a smooth experience in taking the test. 
Find out more about the Duolingo English Test.
Featured image
Image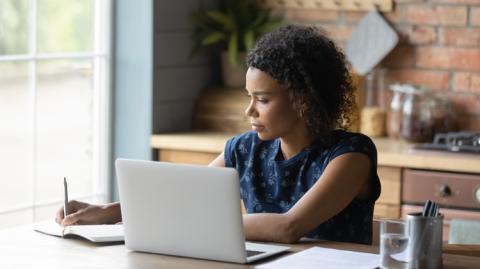 Standfirst
A unique selling point of the Duolingo English Test is that it can be taken anywhere, but it's important for test-takers to set up their testing environment in the right way