Sponsored content: created in partnership with McGill University, part of the World 100 Reputation Network.
Improving the sustainability of our planet is a pressing topic, and students and researchers are at the forefront of much of the effort surrounding it.
It is therefore particularly apt that McGill University's bicentennial celebrations have placed the Student Sustainability Challenge at its centre. The impact200 challenge aims to turn students' ideas into innovative projects with real-world impact. The winner, announced on 2 December, was an information-sharing platform designed to connect small food banks in Montreal with food donors and people in need of support.
Each submission addressed the UN's 17 Sustainable Development Goals (SDGs), which cover a range of issues from climate action and affordable, clean energy to gender equality and education.
McGill University already has a strong relationship with the UN SDGs, and has been recognised as a leading university for impact in the Times Higher Education Impact Rankings. The university scored particularly highly for SGD 9, industry innovation and infrastructure, with a score of 99.2. McGill also ranked highly for SDG 15, life on land; SDG 16, peace, justice and strong institutions; and SDG 17, partnerships for the goals.
But it is the students who really help McGill make changes to improve our future, as demonstrated by the submissions for the impact200 challenge. The semi-finalists' proposals cover a wider spectrum of areas and ideas, from a programme to improve science literacy in underfunded high schools, to a reinvented toothbrush for everyday oral healthcare, to the creation of green rooftops to save on heating and reduce the urban heat-island effect in Montreal.
The winning information-sharing platform and non-profit venture was started by two PhD students in chemistry and a recent chemical engineering graduate, Zhe Li, who works as a chef in a local restaurant. Zhe had noticed that perishable but perfectly edible food items at restaurants sometimes had to be discarded because the quantities were too small to be accepted by a large-scale food donation distributor. The team's project, called FoodMap, aims to reduce food waste, achieve food security and build a more inclusive and sustainable society.
McGill's students were also instrumental in the development of the impact200 challenge itself. A student advisory team came up with the name for the challenge and worked closely with a committee composed of collaborators from across the university, including the McGill Sustainability Systems Initiative (MSSI). McGill's students also placed the SDGs at the core of the challenge.
"MSSI members suggested using the UN Sustainable Development Goals as a framework for impact200", says Ricarda Haeger, executive director of the student advisory team, who recently graduated with a PhD in biophysics. "The students, in turn, generated the idea of using the SDGs to tag the teams and mentors, helping to determine which students to connect with which mentors."
"We really, really wanted to make sure that people were aware that they could be from any background," says Ellen Ferguson, vice-president of marketing and communications for the student advisory group. "So, we were trying to market in different faculties to get really diverse groups and make sure that people knew it wasn't just environmental students – it could be anyone."
The challenge hasn't just been about showing the university's impact intentions but has also offered a significant benefit to the students' learning and experience, specifically those on the advisory team. 
"It was really interesting to see how a project of this size comes together," Haeger says. "I'm sure all of us had experience in organising an event here or there, but it was interesting to see how the different parts of McGill, internally, work together." Haeger, originally from Germany, now works for a start-up that uses virtual reality technologies for neurological rehabilitation.
Ferguson was majoring in biology and minoring in environmental science when she joined the impact200 team. "Working on this project and seeing how interested students were, as well as seeing how much faculty are also interested in sustainability, made me want to continue on that path," she says.
Having graduated last year, Ferguson now works on the sustainability team of a facilities management company in the Toronto area. "I'm seeing now that there are a lot more job positions out there now around sustainability," she says. "Every company is now opening up to sustainability, which is really exciting."
Michelle Pelletier, vice-president of logistics for the advisory group, is a third-year civil engineering student. The biggest lesson she learnt from working on impact200 is that environmental impact has to be a team effort. "We should listen to all stakeholders in a project, especially when considering environmental impact," Pelletier says. "I think it's important to have a holistic approach and to actually see different sides of every problem to see how we can solve it together."
As well as the obvious sustainability benefits, impact200 aims to turn the ideas of students and recent alumni into "bright spots" – the name given to existing sustainability successes at McGill, which can be identified and learned from, catalogued by Elena Bennett. Bennett, the Canada research chair in sustainability science, is co-founder of Seeds of a Good Anthropocene, an international collaboration that has been crowdsourcing a database of projects with the potential to yield transformational change for a better future, regardless of their size.
At the impact200 launch last year, Bennett said: "It turns out that there are bright spots at McGill in all of the five domains that we consider as important things that we do: research, teaching, governance and administration, operations, and in the connectivity among them…impact200 is giving us a chance to create a place where even more of those bright spots can emerge."
The World 100 Reputation Network is a network of leading universities across the world.
Find out more about McGill University.
Featured image
Image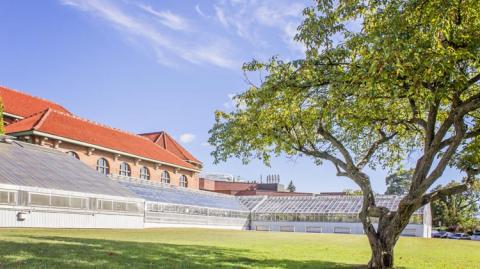 Standfirst
Student-led projects and a collaborative approach to research are key to McGill University's sustainability drive