Sponsored content: created in partnership with Study in Greece.
Today's students have plenty of choice regarding opportunities to study abroad. Higher education institutions from across the globe vie to secure the best and brightest. But not many destinations can compete with the unique mixture of history, culture, climate and cuisine that Greece can offer. As part of a webinar hosted by THE Student in partnership with Study in Greece, academics, students and alumni spoke about their experiences in the country.
Theodoros Papaioannou, director of academic affairs at Study in Greece, opened proceedings by highlighting that contemporary Greece transcends the nostalgia of its past. "Greece is more than a tourist resort," he said. "The country's 24 universities offer more than 140 programmes taught entirely in English, allowing international students to choose from a wide variety of disciplines from theoretical fields to scientific and technological disciplines."
Meletios A. Dimopoulos, professor of medicine and rector of the National and Kapodistrian University of Athens, agreed, stressing that Greek academics pursue a mission of service not only to the nation but the entire world. "Given their intellectual tradition and cultural heritage, Greek universities are committed to the advancement of critical thinking, sustainable development and social cohesion. We at the National and Kapodistrian University of Athens currently have nearly 900 partnerships with institutions from 62 countries."
Given the role of English as the lingua franca for much of the world, English-language courses play a key role in many international study programmes. This is something that Nikolaos Foroglou, professor of neurosurgery at the Aristotle University's School of Medicine, has witnessed first-hand. "Our new undergraduate medical curriculum in English completes our international student portfolio," he explained. "Internationalisation of higher education is a priority for Greek universities. Here at Aristotle University, we are looking to integrate global perspectives into our teaching, research and service missions."
Speaking as someone relatively new to the Greek university system, Gianluca Mattarocci, a visiting professor at Athens University of Economics and Business, was immediately impressed with the quality of the students and his academic colleagues in the country. "The environment is very international," he noted. "And universities actively promote the excellence of the Greek system abroad through international conferences and workshops."
Emmanuella Paravalou, national president of the Erasmus Student Network Greece, said that many students choose Greece for its high-quality universities. "In addition, Greece has many landscapes, sights and cultural events that attract students. The warm climate and low cost of living are other major draws."
The webinar also heard from students about their experiences in Greece. Elisabeta Mosho, an Albanian student at the National and Kapodistrian University of Athens, said: "Even though the past year has been difficult and we had to learn at a distance, the professors did tremendous work with their comprehensive, interesting lessons on Hellenic civilization. The programme has fantastic administrative staff that help students at every step."
Such points of view were echoed by the likes of Natalie Haddad, an international MBA candidate at the Athens University of Economics and Business, Alicia Tan, a Singaporean student at the Athens University of Economics and Business, and Yao Luo, associate professor of electrical engineering at Wuhan University, who served as a visiting scholar at the University of Western Macedonia from October 2018 to September 2019.
Finally, Mitesh Barai, a Tanzanian student at the Athens University of Economics and Business, explained what he enjoyed most about studying in Greece. "First of all, it should be pointed out that living in Athens is not the same as having a holiday in Greece," he explained. "But if you are patient and have an open mind, there are so many positive experiences to enjoy. I would say that my classmates are probably the most amazing thing about being on this programme. As well as contributing to a fantastic course, they've also become some of my closest friends."
Watch the THE Student webinar with Study in Greece on the THE Student YouTube channel.
Find out more about Study in Greece.
Featured image
Image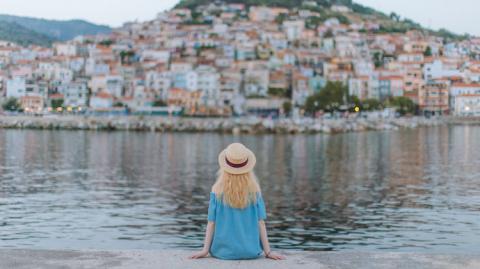 Standfirst
Competition for the best international students is fierce, but Greek universities offer a mix of high-quality courses, rich culture and a climate that few other destinations can match