Sponsored content: created in partnership with Pearson.
When you research English-language tests for study abroad, you may believe that they all assess the same listening, speaking, reading and writing skills. So, what makes the Pearson Test of English Academic stand out and why do so many students choose it for a successful study abroad application?
It will take you to your dream university
No matter what country you are planning to study in, PTE Academic can get you there. With a PTE Academic test result, you can submit visa applications and apply to study at your dream institution. PTE Academic is approved for UK, Australia and New Zealand visa applications, and is accepted for study applications by thousands of universities, government scholarships and professional bodies around the world. By choosing PTE Academic, you can send your score report to as many institutions as you want for free.
Le Dao, a student from Vietnam, used PTE Academic to gain access to a study abroad programme. "Now I can study abroad in Sydney, Australia…I also have the university scholarship thanks to my PTE Academic score," Dao said.
It puts you one step ahead of the rest
Taking exams can be daunting, and waiting for the results can be even more nerve-wracking. By choosing PTE Academic, you can schedule your exam up to 24 hours in advance, which means you can book it whenever you feel ready. Plus, you will typically receive your results within 48 hours. When applying for overseas universities, passing is important but timing is essential, so the flexibility and speed of PTE Academic allows you to be one step ahead of the rest.
Samuel Ihura, a student from Nairobi, Kenya, found the speed of the PTE Academic results particularly useful: "I really needed the result within a short period of time, and I got it within a short period of time. That enables me to be enrolled into university within the specific time that was given to me."
It reflects your true ability
Speaking tests can feel more like a blind date than an exam. You're nervous, afraid of making mistakes, and busy thinking about what you should say and how to behave.
PTE Academic, however, is computer-based and uses artificial intelligence to mark the test, removing some of the anxiety that comes with speaking face-to-face. It assesses you objectively and consistently every time. Additionally, because the test is marked by a computer there is less room for human error, such as the examiner being unfamiliar with your accent, making it a fairer way to assess English proficiency.
Erika Madeiros Silva, a student from Brazil, praised this aspect of the test: "I didn't have to talk to anyone in-person…It's much easier to just do everything on the computer…Sometimes I feel nervous and I don't speak really well, so making it just…using the computer was much easier for me personally."
Learn more about PTE Academic by taking a look at these free preparation resources.
Featured image
Image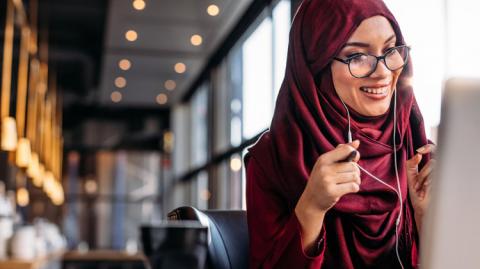 Standfirst
All English-language tests are not created equal. Pearson's tests are flexible, fair and fast