At 7am, as the sun's rays sneak between my blinds and my alarm rings, I open my eyes. Climbing out of bed, I open my dormitory door and knock on the door of my hall mate, Fiona, to wake her before heading to the bathroom to wash up.
Another day, another opportunity to make it count. Here is what a typical day in my life as a final year student at the National University of Singapore Business School is like.
By 7.30am, Fiona and I are ready and head to the hostel cafeteria for breakfast. For me, breakfast is usually kaya – a sweet coconut jam – with toast. In between lulls in conversation, I mentally run through my timetable and psych myself up for the day ahead.
At 8.45am, I grab my laptop and walk briskly to class, grateful that my hostel, Sheares Hall, is just a stone's throw from university. As I major in marketing, classes are mostly seminars with active discussions. In this morning's "Marketing Practice and Impact" class, I note down valuable insights gleaned from intense but enjoyable discussions with classmates and the professor.
It's noon and class ends. At this time, I sometimes attend project group meetings or grab lunch before heading to my Bahasa Indonesia language elective at the Faculty of Arts and Social Sciences' Centre for Language Studies. In addition to core modules, students are required to take electives outside our home faculties as part of the NUS holistic educational experience.
A memorable elective I have taken was "Names as Markers of Socio-Cultural Identity", where I learned the politico-socio-cultural aspects of names, including street and shop names in Singapore. Taking electives allows me to exchange views with students from different faculties and has made me aware of how narrow my perspectives were and how much more I have to learn.
With no meetings or electives today, I savour my favourite bowl of Chinese banmian noodles at the canteen before hopping onto the shuttle bus at 2pm to go to The Hangar at NUS Enterprise – an on-campus incubation support for start-ups that includes a co-working space for student and alumni entrepreneurs – to work on Keyframe, a tech start-up I co-founded.
---
A day in the life of a student in Australia
Why I chose to study at the National University of Singapore
Finding a place at the National University of Singapore
A week in the life of a student in Brazil
---
Keyframe was conceptualised during my year in the NUS Overseas Colleges Programme in 2017. The Programme gave me a chance to work in a tech start-up and concurrently take entrepreneurial-related courses at the Royal Institute of Technology in Sweden. Having seen my peers waste time on social platforms that bring little value to their lives, I wanted to help individuals spend their digital time more purposefully while creating meaningful and healthy relationships, by developing an online platform where individuals can record and share important moments of their lives in different categories with personalised privacy settings.
Work at The Hangar is productive because I get to speak to like-minded entrepreneurs to bounce off ideas or discuss collaborations. Having plenty of meeting rooms with whiteboards on which to doodle ideas and discuss issues with my co-founders gets my creative juices flowing and is a big plus.
At 6pm, I return to my hostel for dinner with friends. We dine at a long table, Hogwarts-style, minus the candles, the magic and the robes. Alright, I am stretching it. Eating local dishes in this warm tropical climate is nothing like dinner in the dining halls of the Harry Potter books, but one can dream.
After dinner, I hit the books for a few hours before heading to University Town – an educational and student hub on campus with residential spaces and learning facilities – at 10pm for dance practice in preparation for an upcoming performance organised by the Cultural Activities Club.
On other days, I indulge in hobbies such as choir, DJing and basketball. These help to relieve stress and make me really happy. I think that the breadth, depth and exposure from an NUS education has taught me adaptability and a fierce work ethic, and improved my sense of time management.
It's midnight and I go to bed sleepy but relaxed, knowing that in seven hours, it is another day, and another opportunity to make it count.
Read more: Best universities in Singapore
Featured image
Image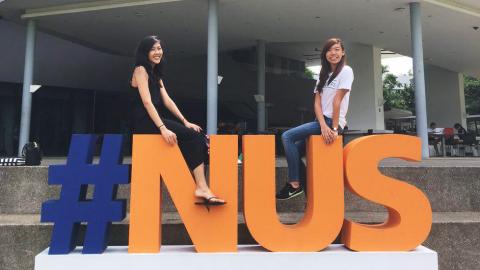 Standfirst
Student entrepreneur Jolyn Moh recounts her day as a student in Singapore studying and working on a social media app