Hong Kong holds a unique cultural position straddling both East and West. Established in 1963, The Chinese University of Hong Kong (CUHK) boasts a similarly distinctive identity, promoting a global vision that combines tradition with modernity.
Dhvanii Chawla, a PhD student in biomedical sciences at CUHK from India, has first-hand experience with the university's international ethos and the way its broad range of courses fosters a culture of academic excellence. "I've always enjoyed travelling but wasn't initially thinking of studying abroad," Chawla says. "It was only after speaking with someone I knew who was enrolled at CUHK that I started to consider it as an option."
Chawla enrolled in the university's undergraduate cell and molecular biology programme, graduating last year before undertaking her PhD.
"One of the first things that attracted me to CUHK was its focus on research," Chawla explains. "The university has a lot of one-on-one research-based programmes. The application process was also very straightforward and there was a lot of support on hand. The admissions office was really forthcoming. It helped arrange international calls and sent the relevant visas and other documentation. I also had a great deal of support from my family too, which helped convince me that CUHK was the right place for my studies."
Since starting at CUHK, the breadth of courses available has become apparent to Chawla. "The university has eight faculties and lots of different majors, including arts, business, science, social science, and engineering," Chawla says. "There are some core general education courses that all students are mandated to take during their undergraduate education but there is plenty of freedom for students to select the courses that they are interested in."
Alongside the variety on offer at CUHK, there is also plenty of support to help students decide on a programme that is right for their future careers. "Communication between students, professors and teaching assistants is always available," Chawla says. "There is a peer tutoring scheme to help students who need additional language support with their essay writing. CUHK also offers a number of course-specific partnerships, such as a collaboration with the Prince of Wales Hospital, a teaching hospital that has helped nurture over 5,000 healthcare professionals."
Aside from its academic focus, CUHK is proud to offer a welcoming environment for international students like Chawla. "Following orientation week, there is an international welcoming dinner," Chawla explains. "Then there is a series of cultural festivals that take place on campus. There's also the i-Ambassador Scheme, where students can form groups and organise events such as dance workshops, or visit places in Hong Kong that hold some cultural significance for them."
CUHK offers a comprehensive exchange programme with higher education institutions around the world, including ETH Zurich, Pennsylvania State University and the University of Cambridge. "As well as the exchange programmes on offer, many students apply to the internships," Chawla notes. "We have annual career fairs, as well as a Career Planning and Development Centre to keep students updated on the opportunities available."
Such opportunities are designed to help students continue their educational journey, whether that means remaining in academia or entering the world of work. "CUHK has a Cooperative Education Programme, designed to help students jump-start their career exploration," Chawla says. "There's also an extensive alumni network to tap into. The university supports students as they develop their soft skills, industry engagement and professional networks while earning their degrees. CUHK is set up to help students with their continuous development. That's certainly been my experience."
Find out more about CUHK.
Featured image
Image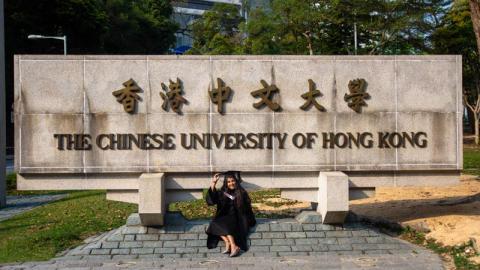 Standfirst
Students from around the world come to The Chinese University of Hong Kong to gain culturally enriching and academically fulfilling experiences