Domestic student: Divya Advani
Diwali has always been a special day. At home, my house is filled with the smell of gulab jamuns (Indian sweets), the colorful rangoli (abstract patterns painted on the floor)  and the beautiful diyas (candles). It is a day that I look forward to celebrating every year with my family and friends. Since I have come to university, I have had to spend some Diwali's away from home. Some students, like me, may feel especially homesick on this auspicious day.
It is definitely a big change to go from big parties and religious ceremonies to ordering takeout Indian food and creating a makeshift aarti (Hindu form of worship) in my dorm room.
I remember my first Diwali away from home, I started my Diwali cleaning a whole week before and started lighting diyas closer to the day. On the day, my family video-called me so I could join the aarti. Though it was not the same as being back home, I was still able to have a special Diwali and spend it with my family, even though it was virtually.
This year for Diwali, I am extremely excited for the festivities at Boston University. On the weekend of Diwali, Boston University's Hindu Student Council will be hosting a Diwali puja (Hindu form of worship) and dinner, an event they hold annually.
During my first year at Boston University, I wasn't aware of the on-campus festivities but since my sophomore year, I have been attending. As well as this, on the day of Diwali, my roommates and I will be hosting our own Diwali dinner and puja at our apartment.
Taking a modern twist on Diwali, we will be having a potluck dinner, playing Diwali inspired games, and hopefully lighting sparklers in our yard. I am excited about this because it allows my friends and I to take the traditions and values we have learnt throughout our lives and to share them with others.
I am lucky to have found a group of friends that feel like family on this special day. I am also very fortunate to go to a school with a community that is very much involved in celebrating the new year for every culture.
---
From India to the UK: a checklist for international students
Brits in America: the international family at Harvard
The University of Toronto international student perspective
Nine tips for students studying abroad for the first time
---
International student: Sanjana Kumar
Lights. Candles. The relentless noise of fireworks. Traditional Indian food. Heavy Indian outfits and loads of friends and family fighting over who gets to light the sparklers. These are a few of the many things that make Diwali a special festival for me.
Although I am Indian, I was brought up in Dubai, and as the Indian community expanded the celebrations got bigger. It soon became a day I looked forward to all year. 
Leaving that sense of familiarity and Diwali behind in Dubai, I came to Boston University as a sophomore transfer. Like me, there are thousands of international students at Boston University who are nervous to leave their homes. Studying is hard enough, it becomes harder when you add homesickness in. 
During my first year at Boston University, I remember trying to find my way through this exciting yet nerve-wracking college experience, while trying to keep my home and culture close. In November 2017, I experienced my first Diwali at Boston University.
Unknown to the university Hindu Council's annual Diwali puja, a few fellow international Indian students and I took it upon ourselves to celebrate the best way we knew how. Ordering Indian food in bulk from a restaurant, making a makeshift temple with small statues of some Hindu gods that my mum shipped over to me, putting on fancy Indian clothes, using fairy lights in place of candles and singing some prayer songs.
It felt odd and immensely different to be celebrating Diwali so far away from home, with unknown faces, no crackers and within the confines of a dorm room. But it is also what made the experience that much more special. 
Now, as a senior who is about to graduate, I know I will be leaving Boston University with countless new memories, and many of them involving the incredible time I've spent re-inventing these cultural and festive experiences in a completely new setting with a new and diverse group of people.
I'm grateful that my university's diverse student crowd will be hosting their annual Diwali puja, which I will be sure to go to. Moreover, I will be taking some of my Indian and American friends to an Indian restaurant for a special Diwali dinner – because what better way to experience the joys of this festival than by sharing it with others in my community. 
Read more: What do international students think Thanksgiving is?
Featured image
Image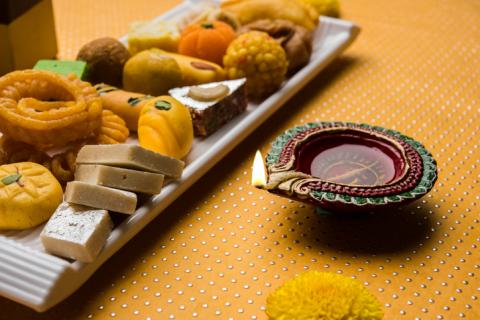 Standfirst
Domestic student Divya Advani and international student Sanjana Kumar share how they celebrate the Hindu festival of Diwali while away at university in America