Sponsored content: created in partnership with the Università della Svizzera italiana.
As communities transition out of the restrictions introduced in response to Covid-19, universities are once again able to celebrate their multiculturalism with face-to-face learning. This return is particularly celebrated by the Università della Svizzera italiana (USI), one of the most international institutions in Europe.
With campuses in Lugano, Mendrisio and Bellinzona in the Italian-speaking region of Switzerland, USI has 99 different nationalities enrolled, with more than 60 per cent of students coming from outside Switzerland.
Just 70km from Milan, two hours by train from Zurich and four hours from Rome, USI is an ideal base for activities such as hiking, skiing and exploring a variety of cultures, and the university's unique European setting is one of its biggest draws for international students, according to Lorenzo Cantoni, Deputy Rector at the university.
This international approach also extends to learning, Cantoni says: "You might have students from 11 or 12 different countries working together in one class, which means a meeting of different languages and cultures, which really helps to prepare them for the global jobs market."
Most degree programmes at USI are conducted in English, but students are encouraged to learn languages through complementary courses in Italian, French and German.
While the pandemic paused some of these opportunities, the university adapted quickly thanks to its pre-existing e-learning laboratory and staff expertise. "Thanks to this vision, we were well prepared. In fact, we didn't lose a single hour of learning," says Cantoni.
Solidarity scholarship programmes were also set up for international students stuck abroad or faced with other Covid-related barriers to learning, and USI plans to continue making classes available online for students with valid reasons for missing face-to-face classes.
Classrooms have been refurbished to allow teachers to record their teaching at the click of a button, but Cantoni stresses that nothing can replace the experience of being on campus. "Conversations between classes – the moments when students might approach the instructor and digest the lesson – I believe Covid helped unveil the importance of informal interactions," he says.
With restrictions lifted, the university once again runs social and learning events on campus. Students are also encouraged to make the campus their own through student-led associations, societies and projects.
The university has expanded over the years, and has recently opened a new biomedical faculty, its fifth one.
For those interested in applying to study at USI, Cantoni says the university favours what researchers refer to as "transformational" rather than "transactional" students, meaning those who want the opportunity to "reflect on their own beliefs, values and the kind of person they want to be, while being open to change".
"Exploratory students want to experience new activities, meet different people and have new challenges. Better still, transformational students go to college to engage in a quest for meaning and to reflect on wider societal challenges," Cantoni says.
The purpose of higher education must go beyond equipping graduates to get a job and make money. "It's about providing meaningful experiences and allowing students to ask big questions about the world around them. This is our mission as educators, and I believe it's happening at USI," he concludes.
about Università della Svizzera italiana.
Featured image
Image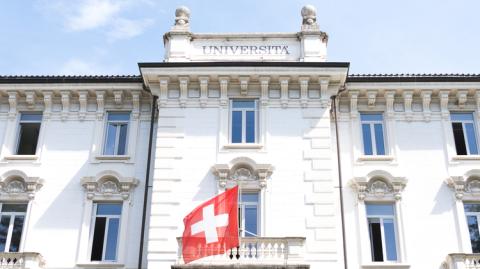 Standfirst
Università della Svizzera italiana seeks students with an appetite for exploration and self-reflection