Top five universities in Denmark
Scroll down for the full list of best universities in Denmark
With the Scandinavian peninsula to its north and Germany to its south, Denmark is a draw for students from across the world. It has excellent English-language study opportunities at a wide range of great learning institutions. Tuition is free for Swiss students and any citizen of the European Economic Area.
Historically, Denmark has been a seafaring nation and the massive Arctic island of Greenland remains an autonomous Danish dependent territory. William Shakespeare, who never visited the country, set his most famous tragedy, Hamlet, among the machinations of the Danish royal court. While Denmark retains a monarchy to this day, the Danish royals are now figureheads of a constitutional democracy.
Denmark is a socially progressive nation with a long history of secular, democratic ideals such as freedom of expression and equal rights for all citizens. This includes a history of liberal thinkers such as philosopher Søren Kierkegaard and the German physician who became de facto regent of Denmark, Johann Struensee.
Such is the level of English fluency in Denmark that it is possible to get by as a student without needing to know Danish – although many Danes will appreciate students who make the effort to learn the language.
Below are the best universities to study at in Denmark according to the Times Higher Education World University Rankings 2022.
---
Best universities in Australia
Best universities in Europe
Best universities in the UK
Best universities in the US
Best universities in Canada
Best universities in Asia
Best universities in Latin America
---
Top 3 universities in Denmark
-Located 15 kilometres north of Copenhagen, the Technical University of Denmark (DTU) stands at the forefront of engineering institutions across the European continent, having merged with five other research centres in 2007.
-Undergraduate courses are taught in either Danish or English, with degrees such as a BSc in general engineering offered in English.
The master's programme with a focus on modern engineering is also taught entirely in English. The university offers courses in conversational Danish alongside its degrees and strives to find accommodation for all of its foreign exchange students.
An example of the ground-breaking research undertaken at the university is the work in creating translucent concrete, a scheme that is part of the EU-funded Brightwall project involving embedding optic fibres into concrete to create a screen.
Nobel Prize in Literature laureate Henrik Pontoppidan attended the university when it was still a polytechnic. In more recent years, attendees have included Andreas Mogensen, the first Dane to fly in space, and Danish international footballer Ebbe Sand.
-Aarhus is a city on the east coast of Denmark's Jutland peninsula and the university campus is located in the city centre.
-As well as being a leading research institution, Aarhus is a university well known for its arts subjects. 
There are more than 60 courses taught in English at Aarhus at both an undergraduate and postgraduate level. A Danish green-card programme allows international students to stay in Denmark up to six months after the end of their degree, and Aarhus has a dedicated job bank established to help graduates find a job in their field in this time.
Former secretary general of NATO Anders Fogh Rasmussen is an alumnus of Aarhus, as is Lene Hau, a physicist who led a team at Harvard that was able to slow and stop light. Co-founder of Google Maps Lars Rasmussen (no relation to Anders) also attended.
-The University of Copenhagen is one of the premier European universities, with a campus in the centre of Denmark's thriving capital. 
-While many courses at the university are taught in Danish, English courses are also on offer for both undergraduate and postgraduate degrees in a wide range of fields, from experimental medicine to theology.
The university is an established research centre, which belongs to the prestigious International Alliance of Research Universities, a network of research-intensive institutions which also includes University of California, Berkeley, University of Oxford, University of Cambridge and Yale University. 
The university operates on a credits system, giving students the opportunity to take new courses in different schools each semester, so students here have more flexibility than they would, for example, in the United Kingdom.
Founded in 1479, the university has had countless influential figures pass through its doors, such as astronomer Ole Rømer, who was the first person to measure the speed of light. Famous alumni also include two recent Danish prime ministers, Lars Løkke Rasmussen and Helle Thorning-Schmidt. The university has an established and extensive alumni network for students who wish to use its resources and contacts upon graduating.
---
International perspective: a Dutch student in Denmark
Innovative student housing in Denmark 
The 10 most beautiful universities in Europe 
Considering doing a master's? Why not do it abroad
---
Top universities in Denmark 2022
Click each institution to view its full World University Rankings 2022 results. 
Featured image
Image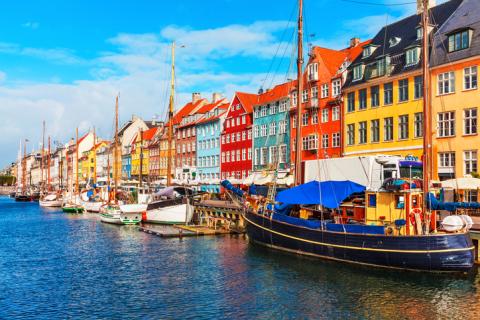 Standfirst
Explore the top universities in Denmark using data from the Times Higher Education's World University Rankings 2022