Canada is home to some of the world's top universities. In fact, 32 Canadian institutions are counted among the best in the world, according to Times Higher Education's World University Rankings 2022.
With seven universities in the top 200, Canada offers plenty of opportunities for a world-class education.
Compared with the US, Canada can also provide cheaper study options, simpler application processes and more opportunities for permanent residency.
---
Best universities worldwide
Best universities in the UK
Best universities in the United States
Best universities in Asia
Best universities in Australia
Best universities in South America
Best universities in China 
---
Canada's top two institutions – the University of Toronto and the University of British Columbia – score particularly highly for research impact, which means that these schools produce high-quality academic work that is well respected.
Many of Canada's universities are renowned for promoting a global outlook by recruiting international students and staff and encouraging international collaborations, so you can expect a cosmopolitan atmosphere on campus.
---
Student experience in Canada
Indian students on why they study at the University of Toronto 
Interviews with international students in Canada about the Covid-19 situation
International perspective: Indian students studying in Canada
A day in the life of a student in Canada
The 10 most beautiful universities in Canada
10 things every international student in Canada should know
---
Top 5 universities in Canada
The University of Toronto is the only university to feature in the top 20 of the World University Rankings 2022. It is structured as a collegiate system, much like prestigious universities in the UK. The seven colleges all have distinct histories and traditions.
The University of Toronto has many pioneering achievements to its name, including Canada's first academic publishing house, the first forest science faculty in the country, and becoming the first Canadian university to reach more than C$1 billion (£586 million) in endowment.
Its downtown campus contains several historic buildings and courtyards that are considered some of the most beautiful university buildings in Canada. 
More than 700 undergraduate degrees and 200 postgraduate degrees are on offer and the university is one of the best in the world for medicine.
Notable alumni include five Canadian prime ministers and the writers Michael Ondaatje and Margaret Atwood. In total, 10 Nobel laureates are affiliated with the university.
The oldest university in the province, the University of British Columbia is one of the most competitive in Canada.
There are two campuses: one in Vancouver and one in Kelowna. The main campus in Vancouver is near several beaches and has views over the North Shore mountains. There are a number of botanical and memorial gardens on campus as well as a renowned performing arts centre.
The university offers a number of scholarships, including the Donald A. Wehrung International Student Award for candidates from war-torn countries.
Eight Nobel prizewinners are associated with the university, as are 71 Rhodes scholars and 65 Olympic medallists.
The university is organised into 12 faculties on the Vancouver campus and a further seven on the Kelowna campus. The university offers a special joint undergraduate programme with Sciences Po in Paris.
Three Canadian prime ministers have been educated at UBC, including current prime minister Justin Trudeau, who graduated with a Bachelor of Education degree.
---
Applying to university in Canada
How to apply to university in Canada
The cost of studying at a university in Canada
A guide to student bank accounts in Canada
Scholarships in Canada for international students
Top universities in Canada ranked by employers
Everything you need to know about studying in Canada
Everything international students need to know about student visas in Canada
---
McGill University is the only Canadian institution represented in the World Economic Forum's Global University Leaders Forum, which comprises the heads of 26 of the world's top higher education institutions.
The university was founded in 1821 and the main campus is at the base of Mount Royal in downtown Montreal. Many first-year students also live on the park-like campus.
All original buildings were constructed using local grey limestone, giving the campus a striking aesthetic.
In 1829, McGill founded the nation's first faculty of medicine, and to this day the university scores particularly highly in world rankings for clinical subjects.
The university offers more than 300 degree subjects to more than 31,000 students from 150 countries. It counts itself as one of Canada's most internationally diverse institutions.
Singer-songwriter Leonard Cohen and the actor William Shatner are graduates of McGill. The university also educates more Rhodes scholars than any other Canadian institution.
McMaster University is located in Hamilton, Ontario, with the main campus situated on 121 hectares of land near Hamilton's Royal Botanical Gardens.
The university is named after William McMaster, a prominent Canadian senator and banker who donated C$900,000 to found the institution.
McMaster's medical school is world-renowned and there are also faculties of engineering, business, humanities, social sciences and science. The university places a strong emphasis on research working to target some of the most urgent needs in society, particularly in the field of health sciences. This includes research from the Stem Cell and Cancer Research Institute, which has turned sections of human skin into blood cells, which could help to alleviate the shortage of blood donors.
Students and faculty come from more than 90 countries and the university holds some 70 international exchange agreements with institutions around the world. 
The only francophone university in Canada's top five, the University of Montreal is the second largest university in the country in terms of student numbers, with more than 36,000 students enrolled. A quarter of all students are international.
The University of Montreal's main campus is on the slopes of Mount Royal. The distinctive central building was built in an Art Deco style.
Seventy-four per cent of the student body is enrolled on an undergraduate degree. A students' union represents undergraduate and postgraduate students and it has three affiliated fraternities and sororities.
University sport is popular – the teams are known as the Carabins and compete in badminton, Canadian football and hockey, among other sports.
Many renowned business leaders are graduates of the university, including Louis R. Chênevert, chief executive officer of the United Technologies Corporation. Other graduates are noted for their contributions to scientific research, including innovations in nuclear power, visual perception and quantum cryptography.
The university also counts former prime minister Pierre Trudeau and 10 premiers of Quebec among its alumni.
---
Best universities in Canada 2022
Click each institution to view its full World University Rankings 2022 profile
Featured image
Image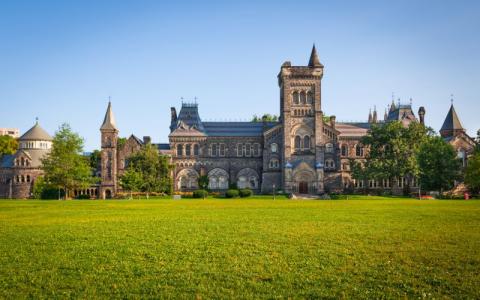 Standfirst
Find the best universities in Canada using Times Higher Education's World University Rankings data 2022