With all the various deadlines, supporting documents and ongoing admin, it's easy to feel overwhelmed by the process of applying for your student visa.
Different countries will have different requirements so, before you get started, take some time to read the government guidance around filling out your student visa application. 
Still, no matter how much research you do, there are some common mistakes students make during the application process that are worth knowing about and avoiding.
Here's what not to do when applying for your student visa.
---
Everything international students need to know about UK student visas
Everything international students need to know about US student visas
Everything international students need to know about student visas in Canada
Everything international students need to know about student visas in New Zealand
Everything international students need to know about student visas in Australia
Everything international students need to know about student visas in Germany
---
Don't leave it to the last minute
When dealing with all the various application processes and admin required to study abroad, it can be easy to let your visa application slip to the bottom of your "to do" list.
Some students will think that all they have to do is fill out a form and are then surprised to find that they need to provide documents such as bank statements, biometric information or medical checks, which can take weeks to procure. Some countries will expect you to show bank statements proving you have had a certain amount of funds in your account for a specific amount of time before you apply; another requirement you'll need to prepare for well in advance. 
Even if you have collected the documents you need, there will be processing times, appointments and sometimes interviews you'll need to complete before having your visa approved and sent to you. You may also find that Covid-19 has caused unexpected delays to normal processing times.
To avoid any deadlines creeping up on you, make a rough timeline to prepare what you'll need for your visa application process, allowing some flexibility in case of unforeseen delays.
Don't be too impatient
Although you don't want to leave things to the last minute with your visa, it's equally important not to lean to the other extreme – getting too impatient.
Many students will find that, despite their best efforts, there will be some unforeseen bureaucratic delays, Covid-related complications or other issues that mean the visa process doesn't always go exactly to plan.  
While it is frustrating to have to wait around for your visa, remember that it's not a quick process for anyone and it's normal to have to wait a while for embassies or visa services to get back to you.
Some countries do offer fast track or express visa services which have shorter processing times – but expect to pay a much higher fee. The UK has a "priority service" for visas, at a cost of £500 on top of your normal application fee, Canada has  the "student direct stream" but only certain nationalities are eligible, and you can apply for an expedited visa appointment in the US, but only under certain circumstances, and it's not guaranteed. 
---
Student visas for Australia: what's changed under Covid-19?
Student visas for the US: what's changed under Covid-19?
Student visa applications for the UK: what's changed under Covid-19?
Study permits for Canada: what's changed under Covid-19?
---
Don't submit anything without proofreading it first
Your visa documents will be checked meticulously by a number of officials, and any mistakes on your forms, however small, could result in a visa rejection or delay.
No one wants to have to delay moving abroad or pay another application fee because of a small mistake, so before you submit any documents or application forms, check over everything a few times to make sure all your details are correct.
You should also be double-checking that you've correctly attached all the requested documents, such as health checks and previous qualifications, and that they're in the requested format (usually PDF).
Once you've checked over everything a couple of times, it's worth asking a friend, teacher or parent to glance over your application too, just in case you've missed anything.
Don't lie or be ambiguous
It should go without saying, but lying at any point on your visa application, including the use of any forged documents, is illegal and will come with a severe penalty such as a fine, ban or even deportation if fraud is discovered after you arrive in the country.
Whatever your situation, you should never lie on your visa application.
Ambiguous answers can also cause trouble. It is essential that you fill out all information asked of you in detail and in the correct part of the form. Failure to do so could result in a visa delay or an outright rejection, meaning you'll have to wait longer and pay your application fee again.
Avoid any acronyms or abbreviations and make sure your writing is simple and clear.
Don't forget to check the photo requirements
You'll need to submit a photo with most visa applications. There will be guidelines to make sure your photo is suitable, just like when you apply for a passport.
The exact requirements for your visa photo differ from country to country, so make sure you've checked the guidelines for your destination country on its government or visa website.
Keep in mind that dimension requirements will not always be the same as those for passport photos.
Most countries will require a recent photo, taken in the past year or so. Some countries will ask for a hard copy of your photo, some will require a digital copy, and some will require multiple hard copies and a digital version.
You may find it's worth paying to go to a passport photo booth or photographer to ensure you get it right. Usually, such services will offer you both a digital version of your photos and a hard copy.
6. Don't be caught off guard by the cost of studying abroad
Applying for a visa will usually come with an application cost that you must pay to submit, and your application will usually ask for evidence of how you'll financially support yourself while at university.
Make sure you factor in the cost of procuring any required documents such as health checks or photos – these won't be included in your visa application fee and will be up to you to pay for separately.
Many countries will then require you to prove you have a given amount of money in your bank account as part of your visa application – usually enough to live on for about a year in your destination country.
By the time you come to apply for your visa, you need to be thoroughly informed of all the significant costs involved in studying abroad, and ready to provide documentation proving you have the means to cover these costs.
Don't pay anyone to do it for you
Unfortunately, the international higher education sector is often an attractive market for scammers who want to make money out of prospective international students.
There are lots of "cash for visa" scams out there, and you should never give your money to a third party to process your visa.
For most students wanting to study in an anglophone country, you will need to prove either a pre-existing level of proficiency in English or enrol on an ESL course to learn English. Visas offered in exchange for enrolling on a course where students don't have to speak English will be fake.
Always check government websites to ensure that the visa application centre you go through is legitimate – most government websites will have a list of registered of visa application centres in different countries. If in doubt, contact the relevant department in your own country to gather more information.
Sometimes, university agents will offer to help you with your visa application process along with their other application services. This is usually legitimate, but make sure you do a background check before ever giving your money over to an agent. If an agent says they have a partnership or have worked with your chosen university before, contact your university directly to verify their claims.
You can also use our guide to choosing a university agent to ensure you're choosing a legitimate service.
Featured image
Image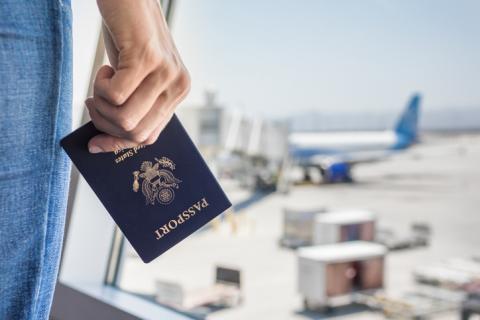 Standfirst
Common mistakes students make when applying for a visa to study abroad and how to avoid them