You've just submitted your Ucas application form and breathed a sigh of relief that you're one step closer to embarking on a life of seminars, lectures and independence in September. But what do the next eight months have in store?
Here is a step-by-step breakdown of the next stages in the life cycle of a prospective student, from awaiting university offers to collecting exam results and exploring clearing and adjustment.
January–March: offers from universities
It's really important to know that all applications received by universities before the 25 January 2023 Ucas deadline are guaranteed to be given equal consideration, regardless of when you submit. (A few courses had an earlier deadline of 15 October 2022 including medicine, dentistry, veterinary science courses, and the Universities of Oxford and Cambridge.)
Generally, universities start considering applications as soon as they arrive. This is true even before the January deadline has passed. So some lucky early applicants will already be holding offers from some universities. Don't worry, the equal consideration rule still applies.
If you're applying after the Ucas deadline, don't panic. The most important thing is that you make the right choice. Lots of courses will still have places that you can apply for after the deadline.
Universities will reply with their decision or sometimes with an invitation for an interview. Often this will be within a couple of weeks of receiving your application, but sometimes it can take longer. It all depends on how many applications the admissions tutors are working through.
Some universities don't even start processing applications until the January deadline has passed so don't worry if you haven't heard back. Receiving a decision will sometimes take until the end of March. The absolute final deadline for decisions to be made on applications received by the deadline is not until 30 June 2023. After this, any outstanding applications will automatically be entered into Clearing.
Offers will either be conditional on your achieving certain grades or unconditional. Conditional offers are specific to you and will tell you clearly what you need to do in order to meet the terms of your offer, such as achieve a minimum number of Ucas points overall or achieve particular grades in your BTECs or A levels (or other international equivalent qualifications) and may ask for particular grades in certain subjects too. Unconditional offers will offer you a place regardless of what your final grades are. 
---
Top 7 qualities universities look for in student applicants
How to apply to university: essential guide to university applications
Choosing your university: 5 things to do before submitting your Ucas application
Common grammatical errors to avoid in your university application
11 most common opening lines in Ucas personal statements
---
January–March: the interview stage
It's not very common, but for a few courses at a few universities, you might be required to attend an interview before a decision is made. If you are asked to attend an interview, it should show up in your Ucas Track, specifying a time and date. If you can't make the suggested interview slot, then it is best to contact the course administrator at the university directly. They will be able to help.
If you are invited to an interview, preparation is key. Remember, this is an important opportunity for you to impress a tutor, who will often use your Ucas application as a guide for your conversation.
You should be prepared to explain anything you have written in your personal statement, including discussing knowledge, skills, books or topics you have mentioned and be ready to talk in general about your subject area of choice.
As well as being a chance for you to demonstrate your passion for the subject you want to study, interviews also offer you the chance to find out more about the university, to see if it feels like the right place for you to study. So have your questions ready – find out more about the course content, types of learning activities (projects, seminars, tutorials) and assessment styles.
However, interviews for the Universities of Oxford and Cambridge are usually held in December so you will have a little less time to prepare for those. 
---
Tips for acing your University of Oxford interview
Can you answer these Oxford University interview questions?
10 common college interview questions (and how to answer them)
---
January–May: decision time
Now that you have all your university offers it's decision time. You need to select which course at which university you want to accept as your firm choice – this is your first choice. You should also have an insurance choice, which acts as a backup if you don't meet the requirements of your first-choice offer, so you should ideally pick one that is asking you to achieve fewer Ucas points or lower grades than your firm offer.
If you receive an unconditional offer and you choose to accept it, you immediately have a guaranteed place on that course. By accepting an unconditional offer, you are committing to attend.
Ucas will set you a deadline to reply to your offers. You reply to all your offers at once, including declining any offers that you don't pick as your firm or insurance. You'll usually have a few weeks to make your choices so use the time wisely. Universities will usually invite you to an open day for offer-holders during this time. Getting a feel for the universities and courses will help you to make an informed choice about your future.
---
Tips for attending university open days
How to get a feel for a campus when you can't visit in person
---
July–August: exam results
The exact date of results day will depend on which qualifications you are studying.
International Baccalaureate results are released in July 2023, Scottish Highers are released on 8 August 2023, and some BTEC results will be available in July, with others being released at the same time as A level results and the Welsh Baccalaureate. At the moment A-level Results Day is 17 August 2023. 
Ucas Track will update to tell you whether or not you've been accepted on to your firm (or insurance) choice. When this happens will depend on when your results are released. For example, A level applicants will be able to log on to Ucas Track from 8am on 17 August to see their decisions.
Sometimes, if you have not met the conditions of your original course, your chosen university may offer you a place on an alternative course. It is entirely up to you whether you accept this new offer – make sure you ask any questions you may have about this new course before making your decision.
---
A level results day: What to do when you receive your A level results
How to survive A-level results day
What NOT to do on A-level results day
---
July–September: clearing and adjustment
Don't panic if you don't make the grades for your firm and insurance choices – there's still hope.
First, your university may still accept you. Their decision on this will depend on whether they feel you will succeed on your course (including considering the grades you have achieved) and whether they still have places available.
Clearing, which is open from July until October, offers another chance to "shop around" for available courses now that you know your exam results. Lists of vacancies are continually updated so keep checking the Ucas website, using the search tool. You should then contact the universities you are interested in directly to explore your options.
If a university offers you a place during this time and you want to accept it, you can add it as a "clearing choice" in Ucas Track. Just like your original applications, it is important you make the right choice for you so give it careful thought and visit the university if you can.
Most universities list the courses they expect to have available through clearing early (before results day), so start researching your options early, and be proactive.
Clearing are much quicker processes than "main cycle" applications as most people have already submitted their Ucas application for consideration, but remember to still consider your offers carefully. Make sure you know how long you have to make your decision – ask if you are not sure. And don't feel pressured to make a change – if you've been accepted to your firm choice and your heart is set on it, that's great…stick with it!
---
Ucas clearing advice from students who have been through it
Navigating clearing: what to do if you don't receive your grades
Clearing: What you should say on the phone to universities
Required reading: how to use social media for clearing
---
Above all, at any time in the next eight months, speak out if you need help or advice. Admissions teams and tutors are here to support you on your journey to university. Keep up the hard work for the next few months, and you'll soon be on your way to an exciting new adventure.
This article was updated by in January 2023 to reflect 2023 dates. This page will continue to be updated as more information comes in around A-level results in 2023. The original article was published in January 2019. 
Featured image
Image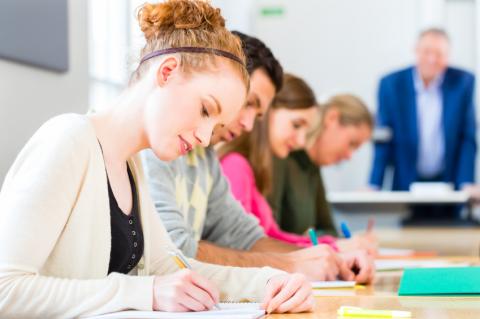 Standfirst
What is next in the Ucas university application cycle? These are the key dates you need to know for the next eight months