The SAT and ACT are well-known features of the US university application process, but in recent years many universities have chosen to become test-optional. This means there is no longer a requirement for students to submit their SAT and ACT results to support their application when applying to a US university. 
But what does this mean for students thinking of applying to universities in the US? Will your application be seen as incomplete if you don't submit your SAT or ACT test? In short no, but read on to find out exactly what test-optional means and how to decide what's best for you. 
What does test-optional mean for international students?
When a university states that it is test-optional, it means that students are not required to submit their SAT or ACT test results to support their undergraduate application. In fact, students may not need to take the test at all if they aren't planning to submit their final score.
Over 1800 universities across the US are currently test-optional including well-known universities such as Harvard University, Stanford University and Columbia University.
Many universities, such as Yale University, chose to suspend the requirement for ACT and SAT scores during the pandemic when it became apparent that students were often struggling to access test centres due to closures or lockdowns. 
"The pandemic led to significant disruptions to the administration of the SAT and ACT throughout the world, and many would-be test-takers were dealing with personal and family challenges brought on by precautionary restrictions or by health issues. As a matter of fairness, we decided to suspend our testing requirements for all candidates, including those applying from outside the United States," says Jeremiah Quinlan, dean of undergraduate admissions and financial aid at Yale University. 
While the option to submit test scores applies equally to both international and US domestic students, it is important for international students to remember that English language tests will very rarely be optional. Students should still ensure that they book their English language tests and submit the results as part of their application. 
If I don't take the SAT or ACT, do I have to do something else instead to support my application?
Universities and colleges in the US set their own admissions policies so this is something that you would need to check with the university that you are planning to apply to.
Kelly A Walter, associate vice-president for enrolment and dean of admissions at Boston University, says that as a general rule of thumb, test-optional colleges do not ask applicants for additional information if they choose not to include test results from the SAT or ACT.
---
SAT university admission test will go digital from 2023
The difference between SATs and ACTs
Everything you need to know about studying in the US
How to write a US college admissions essay
---
Will my application be considered incomplete if I do not submit ACT or SAT scores?
Universities in the US will consider a range of different factors within applications, such as your grade point average at high school, your personal statement and what extracurricular or volunteering activities you have undertaken. 
"We consider a wide range of characteristics in assessing applicants' likelihood of thriving at Yale. In our whole-person evaluations, we look at academic progress through the duration of secondary school, commentaries from teachers, and statements from students themselves about their interests, backgrounds, and aspirations. SAT or ACT results constitute only a slice of the evaluation, and their influence on admissions decisions varies greatly depending on what we learn from other parts of the application," says Quinlan. 
Therefore, given that your application will be made up of a range of components, the decision for acceptance is unlikely to be based on just one factor such as the SAT or ACT scores. 
Stu Schill, the dean of admissions and student financial services at the Massachusetts Institute of Technology, says that "if a college is test-optional, that means that if a student chooses not to submit a test result, they will not be disadvantaged at all in the process. Their application will not be considered incomplete."
Why would it be beneficial to take a test?
There is a difference between taking a standardised test and then choosing not to submit the results, says Walter. 
If students do choose to take the test, then it puts them in a good position to make the decision later down the line on whether to include their test scores within their application or not, based on the strength of the rest of the components of their application.  
It is advisable to check all admissions requirements in detail as some programmes and majors might require testing even if the university itself is mostly test-optional.
Additionally, some merit scholarships may also require SAT or ACT scores in order to determine a student's academic abilities as part of the application. 
It is important for students to take the time to carefully consider the requirements for each of their universities and programmes, and to speak to an admissions officer at their chosen university for more information. 
Featured image
Image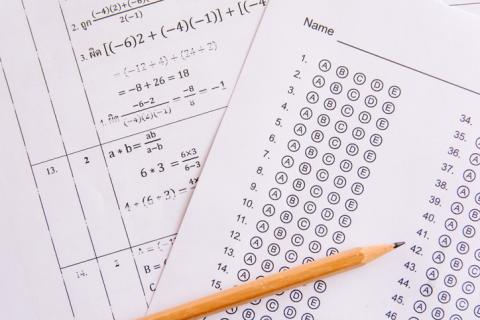 Standfirst
You may have noticed that US universities are stating that they are test-optional - but what does that mean for your university application?